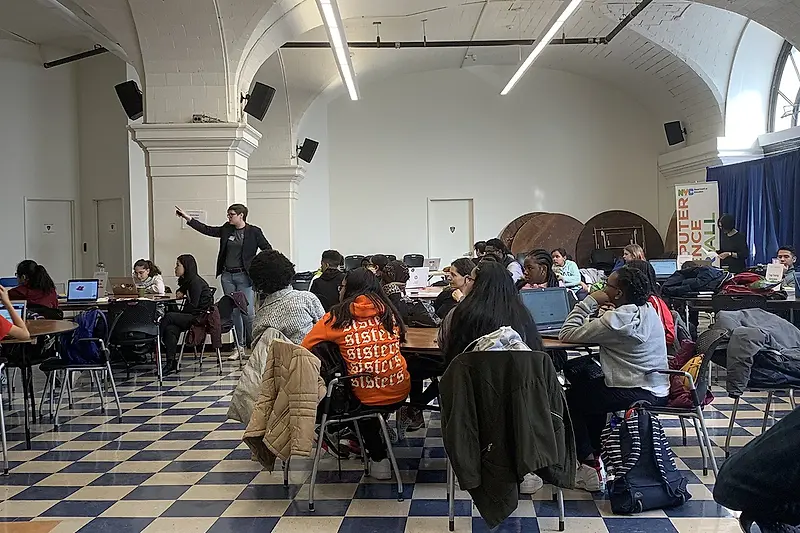 KPFui Analyst Participates as Judge for New York City Hackathon
Brandon Pachuca, an Urban Data Analyst and Web Developer for KPF Urban Interface, recently evaluated projects initiated by the city's middle and high schoolers using open data.
What is the New York Hackathon?
Borough by borough, the city holds hackathons for middle schoolers and high schoolers, and this year, the prompt was to look at New York City's open data to identify a problem in the city. Once the students identified a problem, they were asked to propose a solution by leveraging different technologies and information from the New York City Open Data Portal, which publishes free public data from city agencies and other partners. This is the same resource KPFui uses for many of our interactive online tools.
What was the most promising project you reviewed?
One team had the idea to put end-line generators on water lines to actually generate electricity and offset heating costs for tenants. They were using cost savings analysis to see how much time would need to pass for the generator to save money on each water main for tenants, per building. They illustrated their idea very clearly, and there is a lot of water pressure pulled through every water main for every single building, so I would be curious to see if their idea could go further, especially as laws are getting more and more strict on energy usage across all five boroughs.
Another interesting idea was a community engagement application to connect community members to homeless individuals. For instance, if someone is throwing away a rug, a sweater, or some food, maybe there could be a way to connect with others who may need those items. The students were trying to figure out ways to structure exchanges in a safe way, where community members could have a weekly meetup and get these materials to people who may need them.
After this event, is there an effort to make these a reality?
This was round two of three of this Hackathon. In this round, the students were presenting prototypes and showing what they can and can't do. In round three, all the teams that progress will take their ideas even further. Teams will be asked to refine those ideas, then the winners will test real world implementations and try to figure out how to scale.
What did you find most exciting about being a judge?
This was my first time going to a New York Hackathon, and I was just blown away by where these students were starting in high school, and thinking about where they could be by the time they're in college. They were already thinking about city problems and leveraging new technologies. Some of them had already started coding and thinking about very complex issues like cost savings analysis.
The other judges and I discussed how different things would be if we had known how to code like these kids in high school. They are going to be past us by the time they get to college, and that was probably one of the most inspiring things I'd seen, along with the amount of imagination put into some of these ideas. New York is very progressive in the education department, and programs like this are setting the new bar.
How does this type of exercise relate to what you do with KPFui?
We often take a data dive into New York City Open Data to identify a problem and see where new technologies or additional exploration can help. The Mayor's Office of Analytics continually updates that portal, and the city is really pushing to make the general community more informed. By giving access to this information, anyone can take ownership and take action in their own community.
We used open data provided by the NYC Planning Department for the NYC Decade in Review tool we released earlier this year to help users explore changes in the built fabric of the city over the past decade compared with the previous decade.
KPFui also uses PLUTO, which is a data set showing all the lots in New York. Right now, we're working to figure out how to automate zoning, and we're leveraging open data to build that pipeline of data to insights. Our tool will allow anyone to input and add to this to figure out how to get basic zoning information for their area, scraping open data and the zoning resolution for New York.
To explore the New York City Open Data portal, click here. To demo KPFui's full suite of tools, click here.