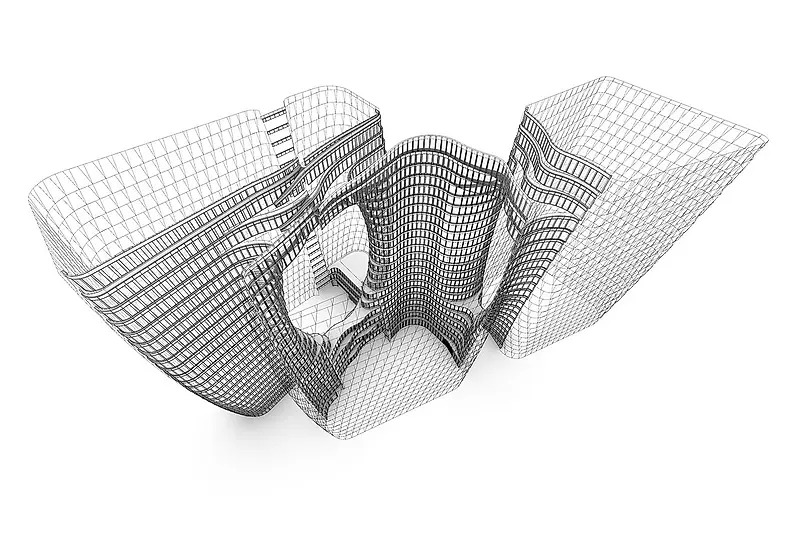 KPF Presents at the DC I/O Conference
On October 21, Mustafa Chehabeddine and Gokhan Ongun presented Beijing Century City (BCC) at the Design Computation Input/Output Conference.
For the BCC project, the concept of traditional shan shui (mountain-water) landscape paintings was embraced to inform the design language. Using the contrasting 'hard' and 'soft' representations of 'mountain' and 'water', this duality divides the envelope into contrasting 'exterior' and 'interior' facades. The exterior façade picks up the rocky features of the mountain, with textured, three-dimensional, large UHPC panels to establish each tower as an individual entity with prominence on the site. This contrasts with the smooth treatment of the interior facades, that form 'valleys' between the buildings featuring translucent laminated stone panels and a warm bronze palette.
The massing of the building generated many non-repeating facade panels. In the talk, Mustafa and Gokhan described how KPF utilized computational tools to rationalise the facades. Reducing the number of unique panels required to improve buildability and reduce construction costs.
The presentation was assembled by KPF's internal Digital Practice team which promotes best-practice and builds firm-wide skills that enable the efficient delivery of landmark buildings around the globe. Find out more about DC I/O.