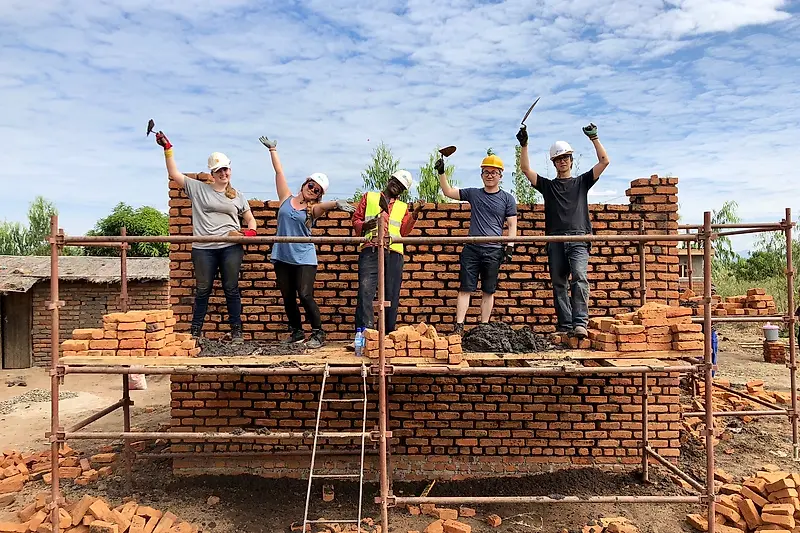 KPF Staff Volunteer in Malawi with Habitat for Humanity
Hailing from multiple KPF offices, ten architects traveled to Mulanje, Malawi in southeast Africa to help repair and build houses. Their participation reflects the strength of the firm's global community and reiterates the positive effect of Habitat's work abroad.
Given their ongoing presence in the country, the local Habitat Malawi chapter contacted families, gathered materials, and organized logistics so that the KPF team could effectively collaborate with residents on their building projects. Over six days, this collective was able complete two, full homes. They will house low-income residents of Mulanje, made possible by the efforts of Habitat Malawi's Orphan and Vulnerable Groups project.
Senior Associate Principal and trip organizer Javier Roig reflected on his experience. "Getting out with a different type of client helps us understand and become better," he claimed. "Architecture is so in the computer. This trip puts what we do in perspective." Roig hopes to make a firm-wide trip with Habitat for Humanity trip an annual event.
Founded in 1986, Habitat Malawi prioritizes shelter as one way of mitigating poverty and improving the lives of people living in substandard homes. The Orphan and Vulnerable Groups project, started in 2009, targets vulnerable families to improve housing and offer various prevention and skills training programs. Since 2016 alone, Habitat Malawi has served 34,555 people. Find more information about their work on their website here.