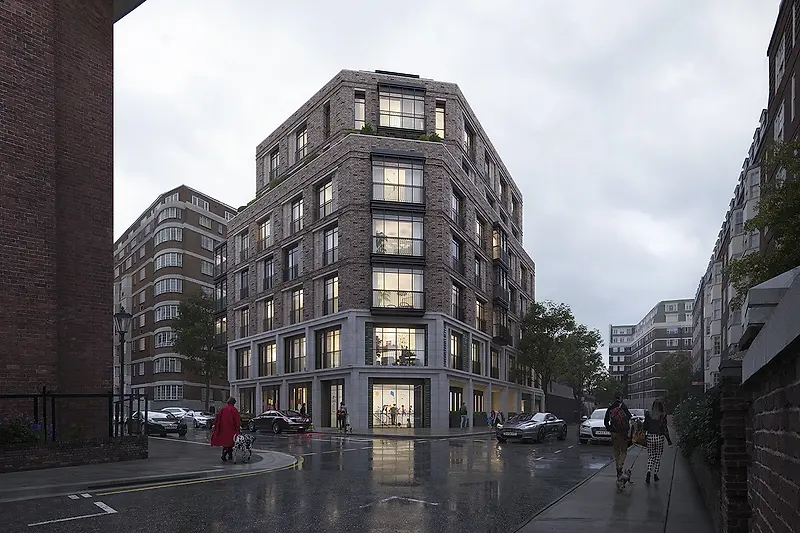 KPF Receives Planning Consent for Lucan Place in Chelsea
The mixed-use design provides new homes, nursery and specialist educational accommodation. Alongside 31 new homes, the building will provide social and community group uses, including a new nursery and a specialist children's education and care facility.
The scheme comprises an efficient mix of new homes, ranging from one- to four-bedroom apartments. On the ground- and lower-ground floor, social community space has been designed to meet the requirements for nursery provider Kido, alongside facilities for the social enterprise Mom's Belief to provide therapy and education for children with developmental difficulties.
"The design of 2 Lucan Place has evolved in close collaboration with our client, Gulf Islamic Investment, and the Royal Borough of Kensington and Chelsea,' explains John Bushell, KPF Design Principal. 'It demonstrates a holistic approach to mixed-use development in a dense urban location. At the heart of the scheme, social and community use for young children and their families will benefit the local community.'
Situated in an area characterised by large inter-war mansion blocks, the eight-storey building uses high-quality materials informed by a study of the immediate and wider Chelsea townscape and close consultation with planners, stakeholder groups and the local community. A two storey 'civic base' marks the social and community use at the lower levels, contrasting with the materials and façade articulation of the main residential elements of the building. Chamfered corners and set backs at the upper levels relieve the experience of the building mass at street level, with projecting bay windows articulating the corners and serving as amenity to the dwellings.