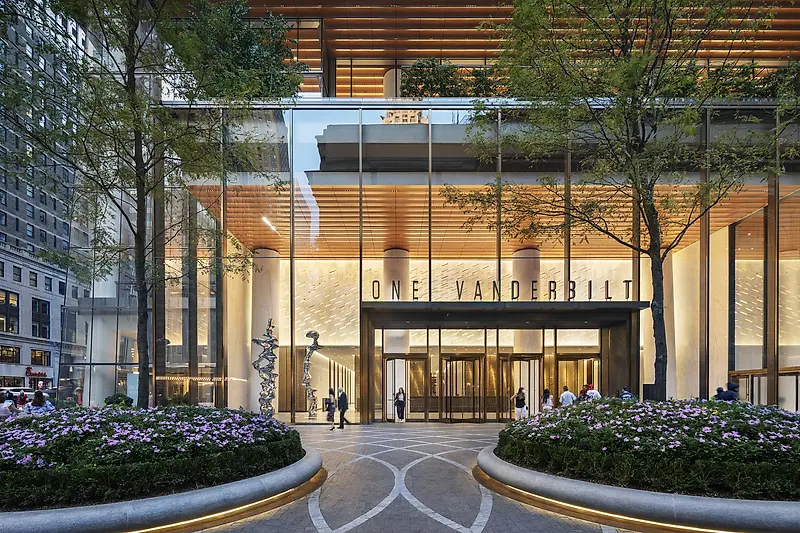 KPF Leads Tour of One Vanderbilt with AIA NY Women in Architecture Committee
On June 18th, four women from the One Vanderbilt design team led a tour of the award-winning tower.
Director Darina Zlateva, Senior Associate Principals Nicole McGlinn-Morrison and Rachel Villalta, and Associate Principal Rebecca Kent guided visitors through One Vanderbilt and provided insight into the project's design and development. The tour touched on the bespoke art installation in the tower lobby, comprised of 540 bronze pieces suspended by 1/8"-diameter cables. This art wall reinterprets the repetition of diagonal features throughout the building while reflecting light and enriching the lobby. On the third-floor terrace, visitors got to experience rare views overlooking Grand Central Terminal.
With direct access to the neighboring terminal, the base of One Vanderbilt forms a doorstep to the city, greeting thousands of commuters daily. A series of angled cuts in the building's form reveals the Vanderbilt corner of the terminal's cornice – a view that had been obstructed for nearly a century. The project is Midtown's tallest office tower, joining the Chrysler and Empire State Building as landmarks that define Manhattan's skyline.
The tour was organized by AIA New York's Women in Architecture committee, a group that develops and promotes women leaders within the profession, providing mentorship and networking opportunities in architecture and the allied design and building industries.
The tour took place on Saturday, June 18th from 10:00 AM to 12:00 PM. Learn more about the event here.