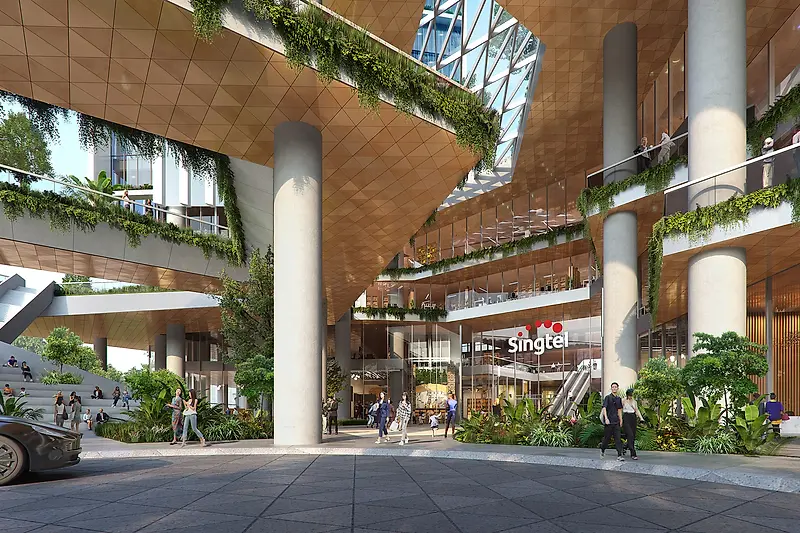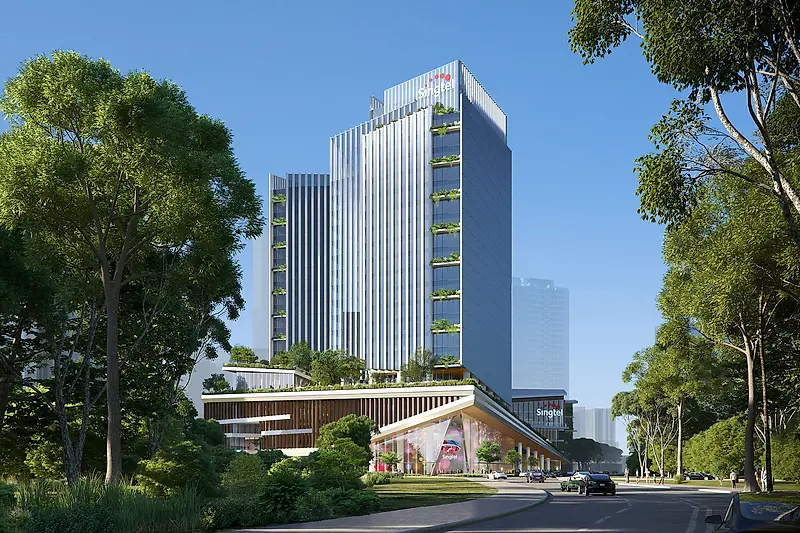 KPF Designs New Sustainable Singapore Landmark for Singtel and Lendlease
This week, Singtel announced a partnership with Lendlease to transform its Comcentre headquarters, with KPF leading the design, resulting in a net-zero energy development with carbon-neutral construction.
Telecommunications giant Singtel has entered a joint venture with global real estate group Lendlease to redevelop the Comcentre in Singapore. KPF is transforming the development, creating two 20-story buildings that look toward the CBD and Marina Bay, in addition to an active public realm at ground level. The development welcomes the public through dining options, retail fronts, and shaded seating options, in addition to a landscaped podium roof located above the auditorium. Slated to be the country's first end-to-end carbon-neutral development, the project's sustainability efforts began at design and will continue through construction to operations. Both buildings are oriented to maximize natural wind flows and onsite solar generation, while landscaping creates spaces for the office tenants and local community to utilize and enjoy.
Singtel Group CEO Mr. Yuen Kuan Moon said "With its unparalleled location in the centre of Singapore's famous shopping belt with a modern urban design, smart workplace features, and commanding presence, Comcentre will be an attractive location for progressive companies seeking a prestigious 'deep green' business address."
The Singtel Comcentre adds to KPF's portfolio in the Singapore, including 18 Robinson, a boutique office building perched above a retail podium, Estée Lauder Singapore, office interiors that provide tailored workspace for each of the company's many brands, and Changi Airport Terminal 5, an expansion in collaboration with Heatherwick Studio that will add an initial capacity of up to 50 million passengers per year to the highly visited airport.
Read the full announcement from Singtel here.