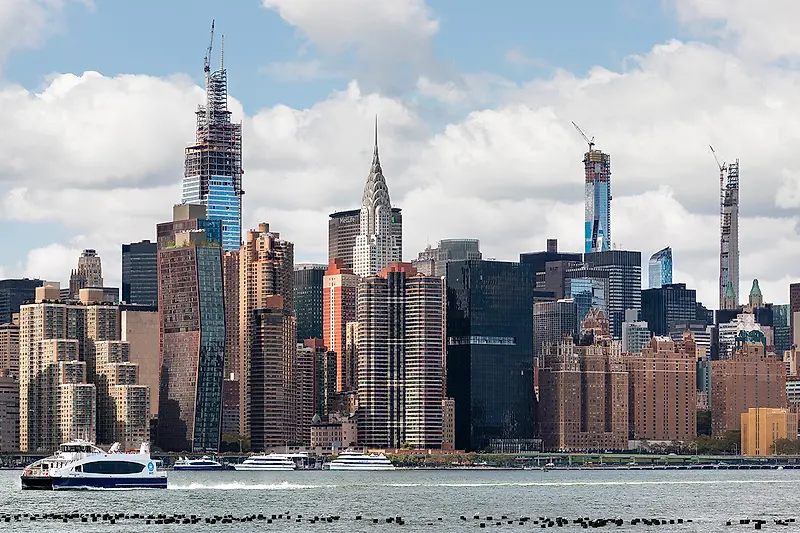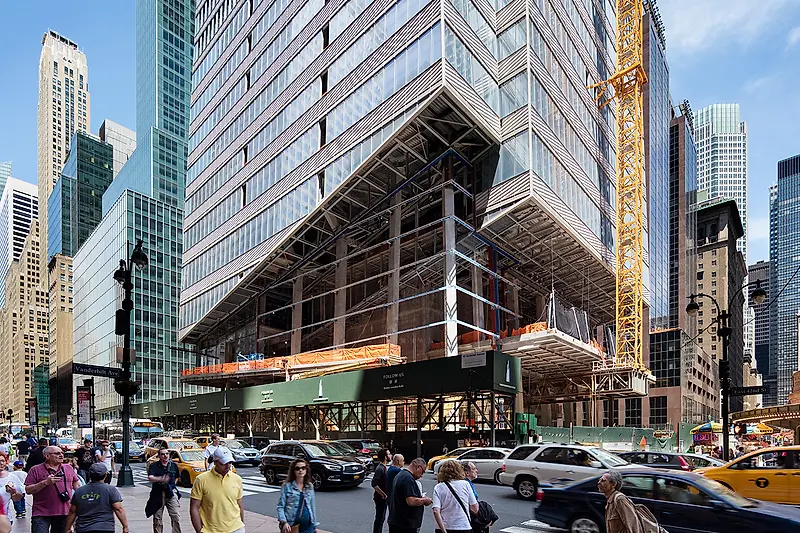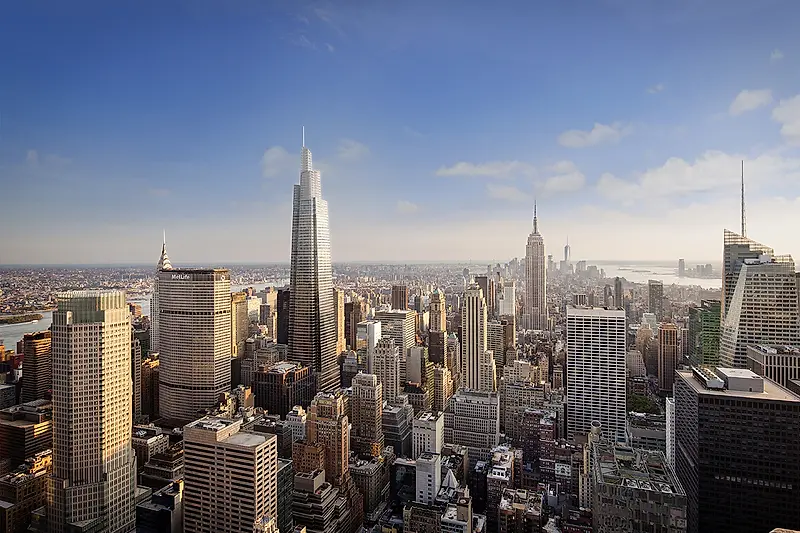 KPF-Designed One Vanderbilt Tops Out in Midtown Manhattan
On September 18th, KPF and developers SL Green and Hines celebrated the official topping out of One Vanderbilt, convening for the ceremonial raising of the tower's spire to its pinnacle.
Approaching 1,401 feet (427 meters) in height, One Vanderbilt will become the tallest office tower in Midtown Manhattan, and upon its completion, will transform the civic experience of the Grand Central district, layering its architectural language and skillfully meeting market demands for cutting-edge, contemporary office space.
Formally, One Vanderbilt's massing comprises four interlocking and tapering volumes that spiral toward the sky, an elegant shape in sympathetic proportion to the nearby Chrysler and Empire State Buildings. At the tower's base, a series of angled cuts organize a visual procession to Grand Central. They reveal the Vanderbilt corner of the terminal's magnificent cornice – a view that has been obstructed for nearly a century. In turn, the KPF design team chose terracotta – an organic material akin to the terminal's masonry construction and famed Guastavino tiles – for the building's fluted spandrels, which line the rising glass façade with natural, luminous texture.
"As One Vanderbilt reaches its full height, its slender, crystalline profile assumes a prominent place on the New York skyline," says James von Klemperer, KPF President and Design Principal. "The same angled geometries translate to the base of the tower, gesturing with generosity to the great landmark of Grand Central Terminal. KPF is proud to have led the design effort, which arose from the collaborative efforts of our studio, SL Green, Hines, and the NYC Department of City Planning."
"We wanted One Vanderbilt to echo Guastavino's timeless terracotta detailing in Grand Central," says Jeffrey Kenoff, KPF Design Principal. "For the tower's façade, the design team explored and tested combinations of over 300 glazes and profiles to ensure that the wall would respond generously to the Midtown skyline as well as to the varying light conditions it would encounter."
Beyond its design, One Vanderbilt blends private enterprise and the public realm with its unique program. An integrated complex of below grade conditions will offer direct connections to Grand Central and an active, 14,000-square-foot pedestrian plaza on Vanderbilt Avenue. By 2022, the tower will also fully integrate the new plan for East Side Access, which extends Long Island Rail Road (LIRR) service to Grand Central. Filling an entire city block between 42nd and 43rd Streets along Madison and Vanderbilt Avenues, the tower will become part of the spatial sequence of the terminal and a doorstep to the city, greeting thousands of commuters daily.
"As a new hub of Midtown, One Vanderbilt will facilitate GCT commuting patterns by providing additional direct access to all levels of below grade transit that feed or will feed into Grand Central in the future," says Dominic Dunn, KPF Managing Principal. "As its unique form enhances the experience of the New York skyline, so too does KPF's design craft a ground plane experience that welcomes thousands of commuters, becoming a hallmark of transit-oriented design for our dense, bustling city."
"Maintaining the fast-tracked schedule to design and deliver One Vanderbilt was perhaps one of the biggest challenges," says Andrew Cleary, KPF Technical Director. "The fact that a project of this complexity has repeatedly achieved all the major construction milestones on time is a clear testament to the tight collaboration that the design and construction teams forged from the outset of the design process."
Expected to achieve LEED and WELL certification, One Vanderbilt will offer 1.7 million square feet of Class-A office space across 58 floors, featuring column-free expanses and stunning views through floor-to-ceiling windows. A 30,000 square-foot amenity floor with outdoor garden terraces, as well as world-class dining headed by esteemed French chef Daniel Boulud, will round out the building's offerings.
One Vanderbilt joins KPF's portfolio of impactful New York projects, including the firm's ongoing work at Hudson Yards, which comprises the design of its master plan and numerous towers – 10, 20, 30, and 55 Hudson Yards. It also joins KPF's ongoing repositioning work in Manhattan, such as One Madison Avenue – another collaboration with SL Green – as well as 390 Madison Avenue, for which a surgical re-massing redistributes existing square footage in the form of eight new vertical stories, and Hudson Commons, which adds 17 stories above a former warehouse to create state-of-the-art office space for tech tenants. Together, these projects demonstrate the firm's penchant for urban design and thoughtful integration of architecture with local infrastructure and zoning conditions.