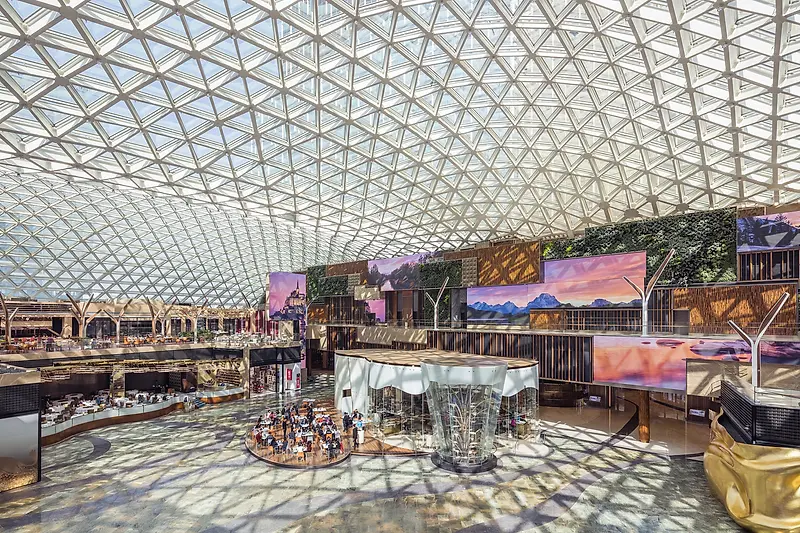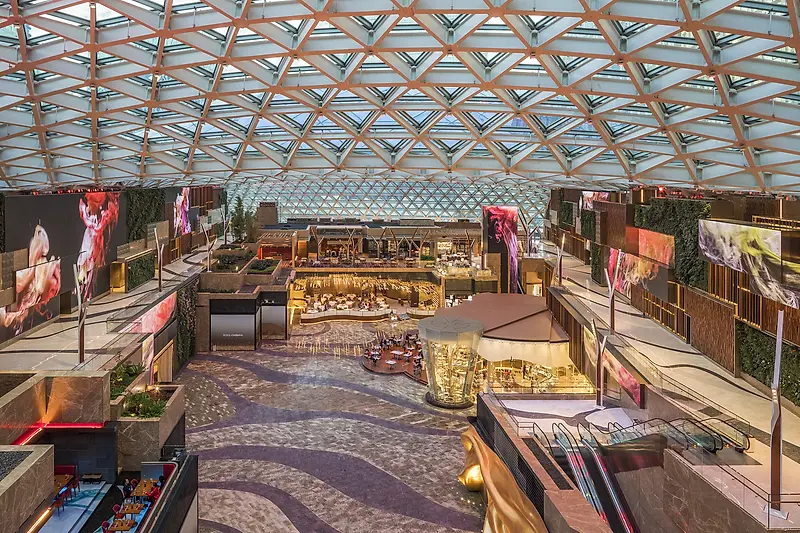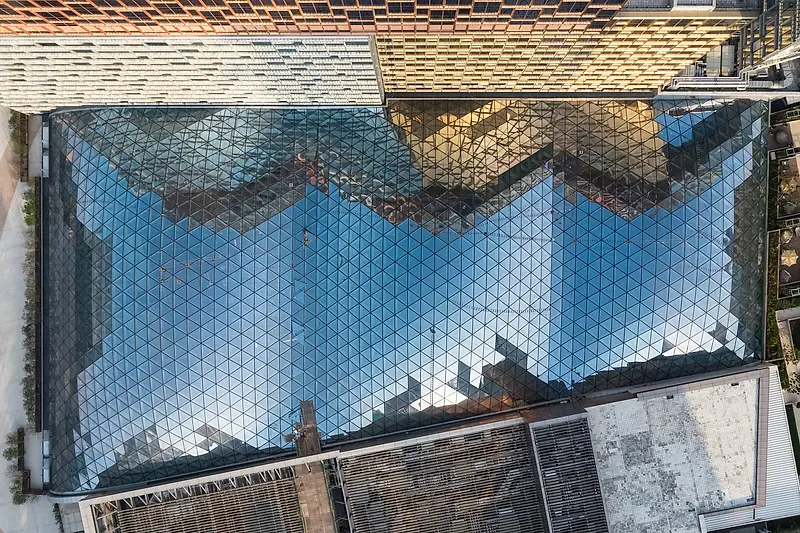 KPF-designed MGM COTAI Achieves a GUINNESS WORLD RECORDS™ Title
The Spectacle roof at MGM Cotai has been verified as the largest free-span gridshell glazed roof (self-supporting), making it the first architectural and structural GUINNESS WORLD RECORDS title for Macau, China.
The Spectacle is an immersive space of creative and dynamic design, merging nature and cutting-edge technology. Costing over US$37 million to build, the Spectacle Roof is 37m high and is covered by 8,073.1 m² (equivalent to the playing area of 30 tennis courts) free-forming triangulated steel grid shell supported only along its perimeter. MGM challenged KPF, who collaborated with ARUP, to conceive the structural concept and geometry of this expansive glass canopy. Engineered by Siu Yin Wai & Associates Limited (Hong Kong), this meticulously engineered steel diagrid structure spans over the podium space with a clear longitudinal span up to 138.5m, without being supported by any internal columns.
Consisting of 4,365 beams and 1,531 beam nodes, the roof structure weighs approximately 2,000 tons (around 1,000 cars). The essence of this engineering marvel is with its unconventional dramatic, flowing, multi-vaulted form results from an efficient structural shell, maximizing the volume of space within the podium area, while minimizing the obstruction of views to the exteriors. In addition to achieving this long span in a single layer structure, the roof design allows maximum flexibility in locating hanging points for exhibition purposes.
In its first year of operation, MGM COTAI already swept six honors at the Asia Property Awards, including Best Hotel Development (Asia), Best Hotel Architectural Design (Asia), and Best Universal Design Development (Asia). With environmental sustainability at its heart, MGM COTAI is also the largest property and the first mega-size complex project in Macau to achieve the China Green Building Design Label Three-Star Certification.
To learn more about the GUINNESS WORLD RECORDS title, click here.