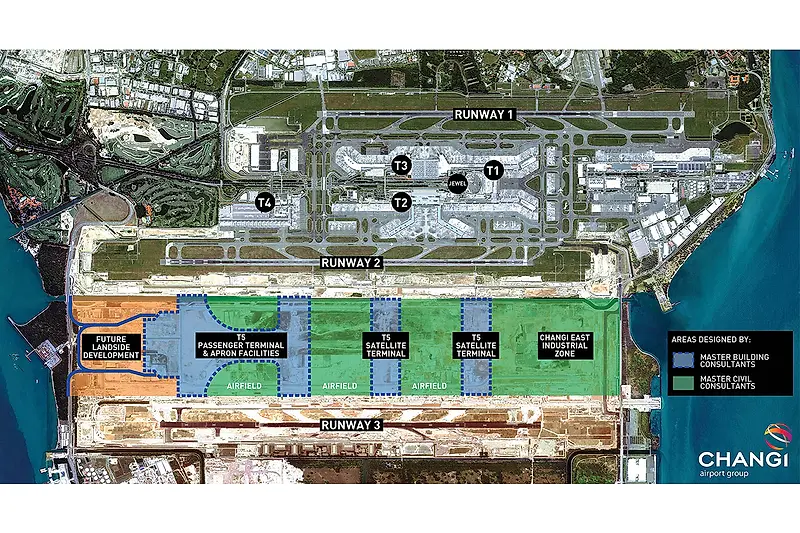 KPF and Heatherwick Studio Selected for Design of Singapore Changi Airport Terminal 5
KPF and Heatherwick Studio are pleased to announce their selection by Changi Airport Group, the manager and operator of Singapore Changi Airport, as the design leaders of the airport's new Terminal 5. 
The collaboration brings together two award-winning and internationally recognized practices with extensive experience designing innovative urban spaces and specialized infrastructure projects.
Working as design partners, KPF and Heatherwick Studio, with Architects 61 will be joined by a team of design consultants, including James Corner Field Operations, The Fountain Workshop, Speirs + Major, Lichtvision Design, and Bruce Mau Design with Entro. Arup, Mott McDonald, and Surbana Jurong will serve as leaders of the engineering team.
Changi Airport Terminal 5 will add an initial capacity of up to 50 million passengers per year to what is already one of the busiest and most celebrated international airports in the world. The magnitude of the project not only requires a design vision on a city-like scale, but also offers the opportunity to transform conventional thinking in airport design.
Jamie von Klemperer, President of KPF, responds:
"KPF and Heatherwick Studio, together with Architects 61, are excited to announce our collaboration for the design of the world's most significant aviation project. As a global leader in designing buildings of major scale and significance, we welcome this opportunity to advance the airport typology.  We're proud to be working with Changi Airport Group to deliver a terminal that will redefine the way we experience air travel, and provide a new, dynamic gateway to Singapore."
Forth Bagley and Dominic Dunn, Managing Principals, respond:
"In addition to our collaboration with Heatherwick Studio, we are thrilled to be joined by a multi-disciplinary team of world-class global innovators, aviation experts, and specialists including James Corner Field Operations, and Speirs and Major. In turn, Singapore-based expertise is a major emphasis of this team's make-up. Our partner, Architects 61 of Singapore, will lead a talented group of architects with a proven track record of delivering some of Asia's most impactful infrastructure projects."
Trent Tesch, Design Principal, responds:
"I look forward to collaborating with Thomas and his colleagues at Heatherwick Studio on the design of Changi Airport Terminal 5. In this unprecedented collaboration between KPF and Heatherwick Studio, we will bring unparalleled creativity to a new era of airport design. My challenge will be to bring out the best of our world-class design team and create a landmark for Singapore that elevates the urban travel experience and the profile of Singapore itself."
Read the full press release here.
More information about the work of KPF and Heatherwick Studio can be found here.