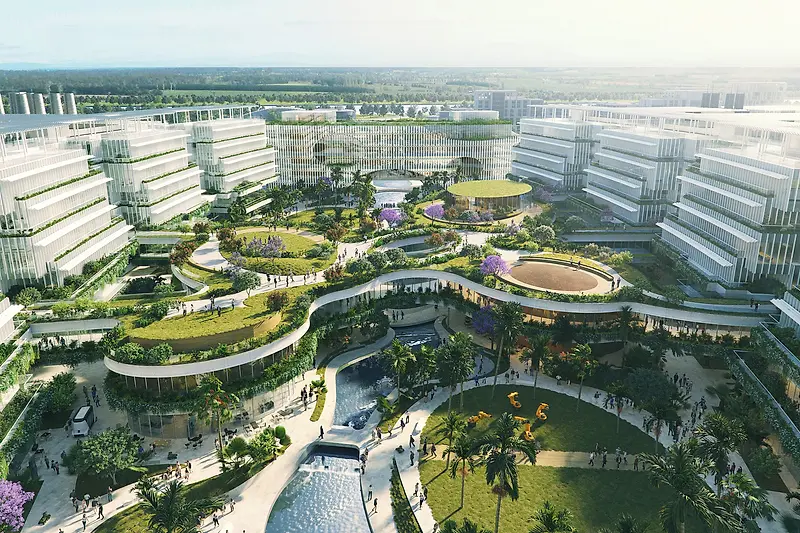 Jill Lerner and Carlos Cerezo Davila Present HKUST Guangzhou in Lab Design Conference Keynote Presentation
On September 21st, the KPF Principal and Environmental Design Director discussed the significant lab and research facilities of the conference's feature project.
Fulfilling the "One University, Two Campuses" model, the Guangzhou campus extends the complementary design and research programs of the institution and establishes a world-leading standard in higher education for future generations and campuses across China. The state-of-the-art research facilities support a wide range of disciplines, including engineering-based programs in autonomous vehicles and smart manufacturing, and feature a vivarium and AR/VR labs. Glass-enclosed laboratories put "science on display", increasing the visibility of the university's leading-edge maker spaces and research areas.
The campus itself is a "living lab" with data collected to analyze air and water quality, studying behavioral patterns of users and sustainability measures of the university. Through metering, research, education, and experimentation, the campus will constantly improve upon its environmental performance. HKUST Guangzhou also includes sizeable lecture halls, a substantial library, seven eating venues, athletic facilities, and two distinct housing communities, all supporting the current needs and future growth of the campus. Josh Meyer, Managing Principal at JACOBS, joined Jill and Carlos for the presentation.
The Lab Design Conference is the leading business conference and exhibition, serving professionals in the design, build, construction, retrofit, and management of state-of-the-art laboratories. The conference program and faculty feature a wide range of expertise covering topics such as lab design, engineering, market trends, sustainability, project management, collaboration, construction, and more.
2021 marks the 20th annual conference, with events beginning on September 20th, hosted at the Sheraton Philadelphia. Jill and Carlos' presentation took place on September 21st at 8:30 am. Learn more and register here.