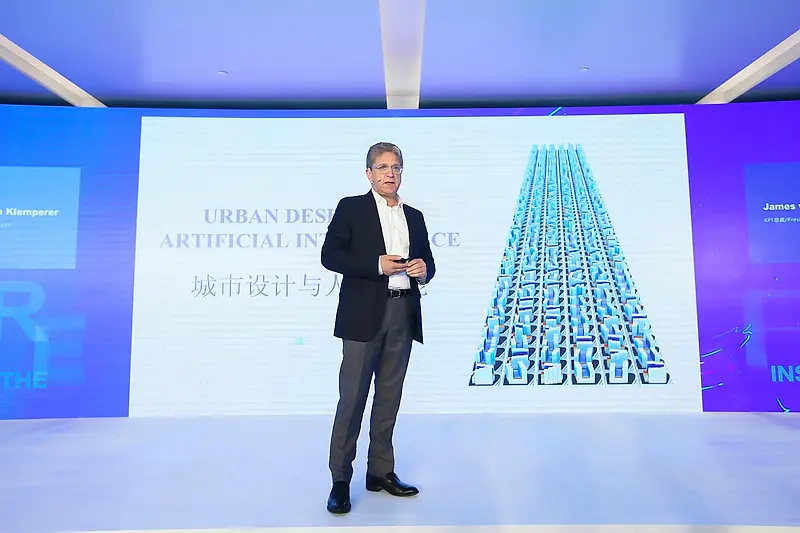 James von Klemperer Speaks on Designing Intelligent Cities of the Future
At the Ping An Smart Architecture Forum, KPF President and Design Principal James von Klemperer offered an inside look at the firm's use of advanced data and new technologies when designing increasingly dense urban areas.
von Klemperer emphasized that adaptation is an imperative for cities of the future, using the paradigms of biology, ecology, and evolution to show that city plans can be read as organic constructs, with valuable insights to be gained from the patterns and interactions of residents.
Pointing to data mapping from KPF Urban Interface, he stated, "As city designers, we are now thinking about how our cities can learn from the behaviors of urban populations, so we can embed intelligence into the plan of the city that might have a more sophisticated use and interpretation." Through KPFui, the firm addresses these challenges using urban data collection, scenario analysis and 3D visualization to more quickly understand and better design for contemporary cities.
By measuring from one city to influence how the next plan will be developed, KPF applies learnings and pushes for more innovative and organic human-centric design. von Klemperer closed his presentation with a commitment to adaptation and a vision of the ideal smart city, stating, "In a way, an urban project is a self-learning device. It is a piece of manmade artificial intelligence that feeds back and allows us to learn and take the next step."
Ping An, China's second largest insurance company, hosted the forum and has commissioned multiple projects with KPF – most notably the Ping An Finance Center. One of the five tallest buildings in the world, this mixed-use supertall building represents the physical and iconic center of Shenzhen's growing central business district, with over 100 floors of office space and connections to neighboring commercial and residential properties, as well as public transportation.
For more information on KPF's research and methodology, visit KPFui.