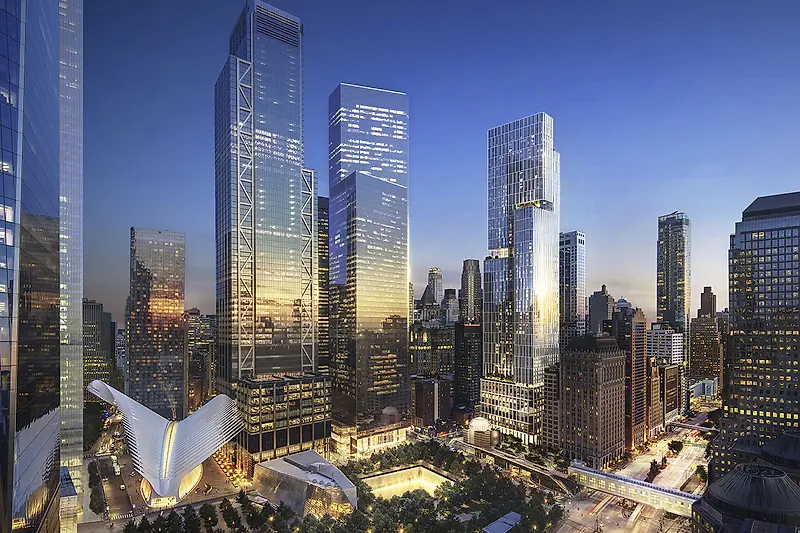 James von Klemperer Discusses The Future of Skyscrapers and 5 WTC with Dezeen
Continuing its 9/11 anniversary series, the outlet considers the next twenty years of skyscraper design, with the KPF President predicting an increase in the use of masonry and craft, as well as a greater mix of uses.
After speaking with Dezeen writer Lizzie Cook about the renaissance of tall building design after 9/11, in this recent article, the two discussed how skyscraper design will change moving forward, including a shift from all-glass facades. To combat the sometimes "blank and inaccessible" nature of a glass building, von Klemperer explained that other materials, such as terracotta and masonry, add a finer sense of craft, resulting in a more accessible building. Speaking of his time admiring the view at sunset from the new KPF tower in Midtown Manhattan, One Vanderbilt, he said, "to see that light play on the masonry of the city of the 1920s, 1930s, 1940s and even 1950s is really gratifying."
This attention to materiality and homage to New York building history is apparent in the firm's design of 5 World Trade Center. On the topic of inspiration and aspirations for the project, von Klemperer said, 'What we're trying to do with the tall building today is to humanize it in a sense, to recapture some of the scales of an indication of craft which we love in smaller buildings… I think our 5 World Trade Center building will have some of that recovery, of sense of craft and texture."
A mixed-use project, 5 World Trade Center is comprised primarily of residential units, with community, retail, and office space within the building's podium. von Klemperer said having this variety of programs in one tower allows a skyscraper to contribute more to its neighborhood, 'I think because a diversity of use and mixing of uses is good for us, in satisfying the things that we need in our lives.'
This article is the second in Dezeen's 9/11 anniversary series to feature von Klemperer. Read the full article here, and view the series here.