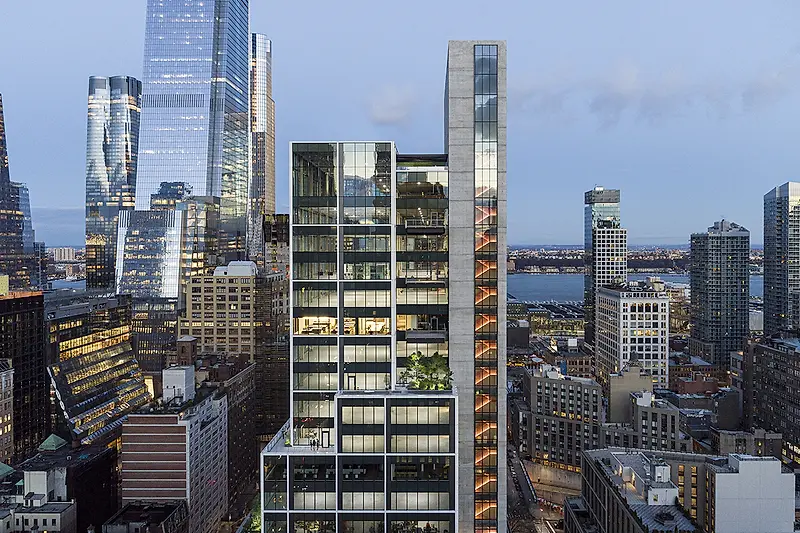 Hudson Commons Wins ULI NY Award For Excellence in Development
The KPF renovation project was recognized by the Urban Land Institute of New York in the 2022 awards program.
One of two finalists in the Excellence in Office Development category, Hudson Commons was honored at an event last week. First built in 1962 as a warehouse, KPF's transformation of the original eight-story building includes the renovation of the podium and the addition of a 17-story glass-and-steel overbuild. In total, the design reused over 85% of the original building's envelope and structural elements. The side core configuration of the new tower preserves city and river views, while floor-to ceiling windows enhance daylight coverage on each floor. In 2021, Hudson Commons sold for over $1 billion, more than tripling the price of the building before its renovation four years prior.
"Each year, we get the opportunity to recognize projects and organizations that work tirelessly to anticipate the needs and challenges of the future and advance the industry further than what we could have ever imagined. This year's finalists are no different," Brian Collins, current ULI NY Chair and EVP, Director of Development at Silverstein Properties, said at the time of the finalist announcement in June.
This is the third year in a row that KPF projects have been honored by the awards program. Last year, One Vanderbilt won in the Office category, and in 2020, Hudson Yards won in the Mixed-Use Development category.
Founded to recognize outstanding development projects in the private, public, and nonprofit sectors across New York State, the ULI Awards for Excellence in Development honor projects that best exemplify an organization's commitment to responsible land use. Winners of the 2022 awards were announced on November 2nd at the Seventh Annual Awards for Excellence in Development Gala. View all of this year's winners here.