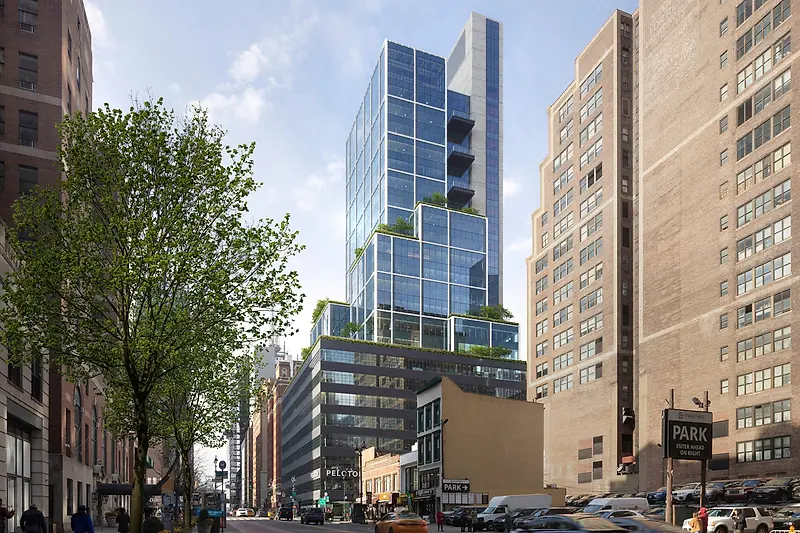 Hudson Commons Achieves LEED Platinum Certification
The recently completed repositioning project was recognized for reusing an existing structure, thereby preserving embodied carbon and reducing its potential environmental impact.
Hudson Commons is a renovation and repurposing of an existing 8-story warehouse on Manhattan's west side to which was added a new, 17-story tower that elegantly rises from the podium to create optimal office space for a variety of tenants.
Prioritizing sustainable practices, the design team minimized the need for new construction materials and the heavy equipment required for full demolition by fully reusing the existing building. Efficient construction waste management and the use of recycled content, as well as regional and low-emitting materials, also minimized the project's carbon impact. In addition to these features, Hudson Commons is easily accessible from Penn Station, Port Authority, and the number 7 train at Hudson Yards, providing superior access to public transportation.
Situated at the gateway to the Hudson Yards submarket, Hudson Commons reflects the qualities of the preexisting site and scale of the originally industrial neighborhood. On the exterior, the podium's lowered brick spandrels and new ribbon windows effuse greater natural light into the space. Within the interior's base, a preexisting grid of fluted, concrete columns uphold their form and function. Moving up the tower's floors, cellular beams and corrugated ceiling textures evoke the industrial quality of the podium. On the tower's façade, a pattern of concave extrusions add depth to the glass grid, all the while harkening back to its surroundings through its duotone, white-grey detailing.
Developed by Cove Property Group, the Class-A building's twenty-five rentable stories cater to the needs of diverse tenants, with nearly every level sporting private terraces or balconies, and the top floor combining its double-height space with a landscaped terrace. The tower's side core configuration preserves city and river views, while an exposed stairway encourages daily use and communication between floors and contributes to the interior's bright, open expanse. Floor-to-ceiling windows also enhance daylight coverage of each floor.
LEED (Leadership in Energy and Environmental Design) is the most widely used green building rating system in the world. Available for virtually all building types, LEED provides a framework for healthy, highly efficient, and cost-saving green buildings. LEED certification is a globally recognized symbol of sustainability achievement and leadership.
To learn more about KPF's commitment to sustainability in design, and path to operational carbon neutrality, please click here.