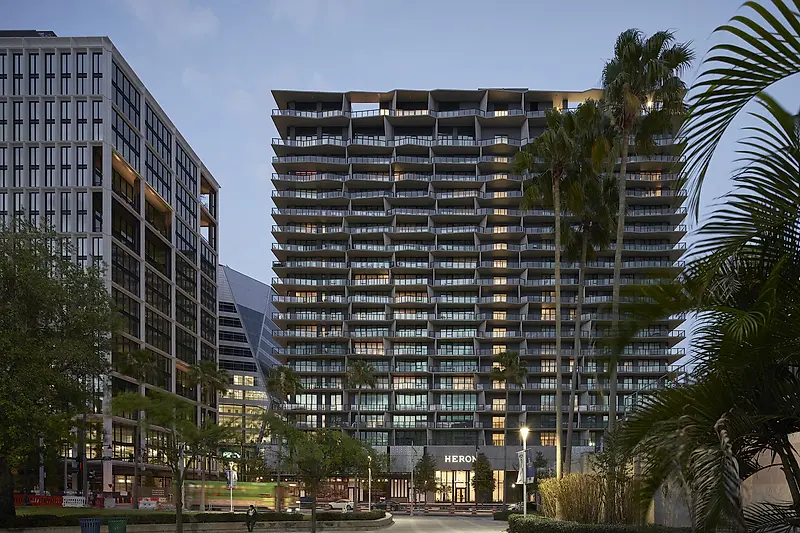 Heron Receives AIA Tampa Bay Design Awards Highest Honor
The LEED Gold residential development in Florida won the H. Dean Rowe Award for Design Excellence in the 2021 AIA Tampa Bay Design Awards.
Anchoring Water Street Tampa, the world's first WELL-certified neighborhood, Heron takes inspiration from organic forms and Florida's vibrant ecosystems. The building's design is derived from the idea that the human spirit can be elevated by surrounding oneself with non-repetitive patterns and shapes, and authentic, natural materials. Heron consists of a pair of residential towers linked by a retail podium. The two towers are slightly angled towards the water, optimizing daylight access and providing unobstructed views. Each features wrap-around balconies that shift from unit to unit to create dynamic and organic movements that define the project. Natural materials are integrated throughout the development, emphasizing both the rough and refined, resulting in an authentic connection to nature.
The Design Awards jury shared, "We loved the simple materials, pure in their expression. The treatment of the concrete adds a nice warmth and the angles in the balconies that get progressively more pronounced as they rise up the building are a fun way to add interest to the façade. The perforated panels on the parking garage and countless other details are masterfully executed."
Heron is KPF's first project in the Tampa area, and joins the firm's expertise in well-crafted and contextual residential projects around the world, including Floral Court in London, which won in the 2020 AIA Architecture Awards, and New York's One Jackson Square, recipient of an Honor Award for Architecture from AIA National in 2011, as well as 23-39 Blue Pool Road in Hong Kong, the first project in the world to be registered LEED for Homes International Pilot and Silver Award winner for Best Residential Project in the 2014 MIPIM Asia Awards.
The H. Dean Rowe Award for Design Excellence is AIA Tampa Bay Design Awards' top honor, recognizing the highest level of design across all award categories. The award is named after H. Dean Rowe, a fellow of the AIA and long-time member of AIA Tampa Bay whose extensive career as an architect in the area is complemented by his commitment to mentoring young talent. The AIA Tampa Bay Honor and Design Awards celebrated this year's winners in a ceremony on November 4th at the Tampa River Center at Julian B. Lane Park. View all of this year's winners here.