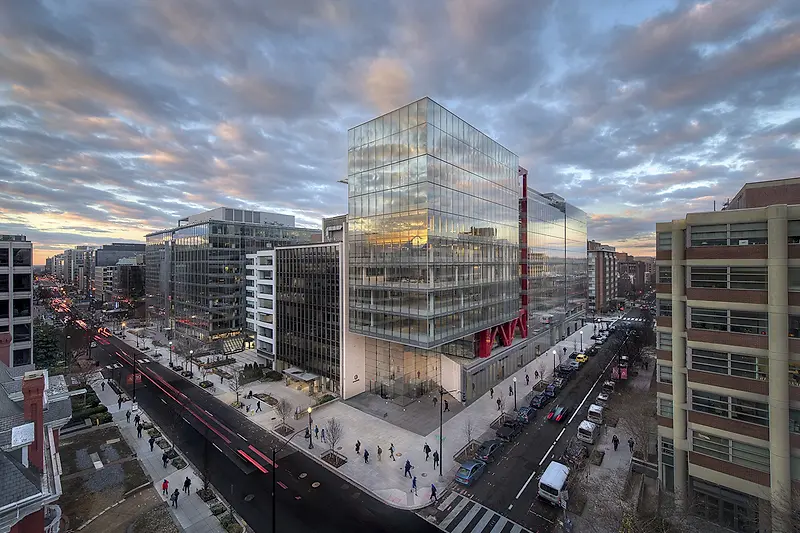 German Investment Firm Buys KPF-Designed 1900 N Street in Washington DC
Commerz Real, the real estate branch of Commerzbank Group, bought the office building in a deal valued at $265 million, as reported by Commercial Observer in a recent article.
The outlet highlighted the agreement between the investment group out of Frankfurt and 1900 N Street's developer, JBG Smith. Commercial Observer spoke with Henning Koch, the Chief Executive of Commerz Real, on why they decided to choose 1900 N after searching for a Washington DC property for over four years, 'we believe that 1900 N Street is one of the best properties that you can buy and own right now.'
With 82% of the space already leased, Koch shared his hopes for the future of returning to the office, "We believe that the world needs office space in the future even if we are working from home a couple of days a week. We want vibrant locations and a great environment close to shopping and bars and restaurants."
1900 N is encased by translucent glass curtain walls with a red-truss exoskeleton, spanning an entire city block that serves as a gateway to DC's central business district. The property is joined by other KPF-designed projects in the nation's capital, including 17xM, a LEED Gold building with a unique form that maximizes the number of perimeter offices per floor, and 1000 Maine, a contemporary office building that responds to the contour of the Potomac River.
Read the full article from Commercial Observer here.