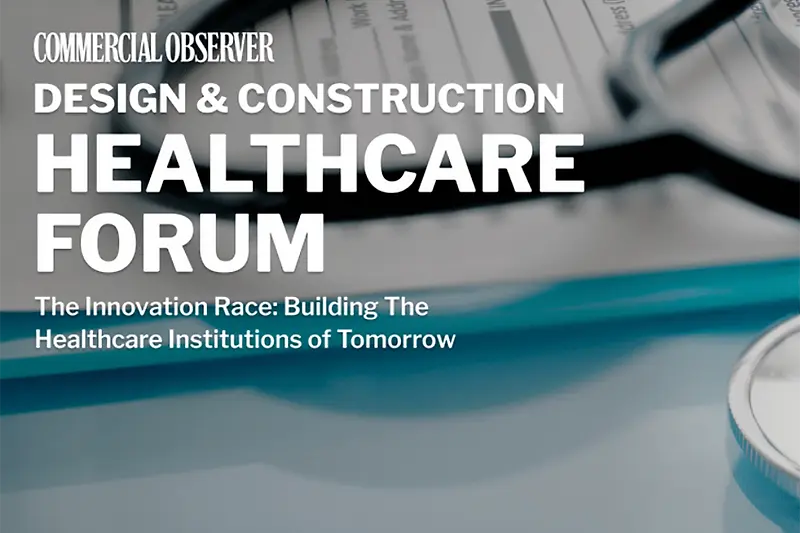 Georgina Lalli Joins Commercial Observer's "Healthcare Forum"
On June 7th, the KPF Associate Principal spoke on a panel about adaptive reuse in healthcare.
The forum "The Innovation Race: Building the Healthcare Institutions of Tomorrow," brought leaders in AEC and CRE industries together to provide insight into the future of world-class healthcare spaces. Georgina will speak on the panel "Repurposing and Converting Existing Buildings for Long-Term Planning."
Georgina was joined Colin Barrett, Vice President, Infrastructure & Special Projects at Mount Sinai Health System. Others presenting include Antonio Cabrera, Vice President, Director of Healthcare at Hunter Roberts Construction Group; Jenny Freeman, Managing Director of Building at Group PMX; Dmitri Konon, Assistant Vice Provost, Capital Planning at Weill Cornell Medicine; and Mike Reilly, Senior Product Manager at New York-Presbyterian Hospital. Yonathan Ron, Sales Director at Otoos, moderated the panel.
The conference, hosted by Commercial Observer, was held on June 7th at the CUNY Graduate Center, 365 5th Ave, Recital Hall, in New York. Georgina's panel took place from 9:50 to 10:30 AM ET. Learn more here.