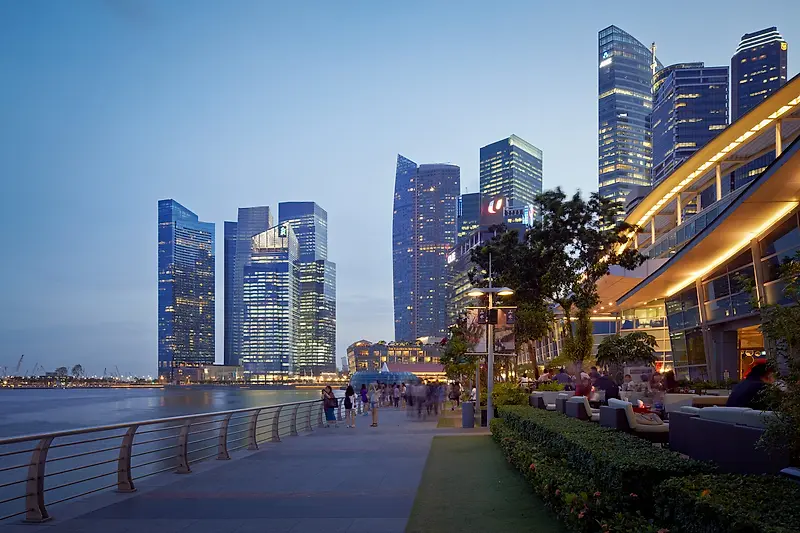 KPF Presents the Long-Term Success of the Marina Bay Financial Centre at the CTBUH International Conference
Completed in 2013, the Marina Bay Financial Centre (MBFC) in Singapore has been honored as an Award of Excellence Winner in the 10 Year Award category of the CTBUH Awards.
The 10 Year Award recognizes proven value and performance of tall building projects and provides an opportunity to reflect on successful developments long after the ribbon cutting ceremonies have passed. In consideration for the overall category winner, MBFC was presented to a multi-discipline, international audience by KPF Principal Forth Bagley and Ben Robinson, Chief Executive Officer of Raffles Quay Asset Management (a Hongkong Land, Keppel Land and Cheung Kong joint venture).
MBFC marked a significant chapter in Singapore's ongoing commitment to dynamic urban development. Since its official opening, MBFC has reinforced Singapore's position as one of Asia's leading business and financial centers. It was conceived as the realization of the Government's 'work-live-play' concept for Marina Bay, offering outstanding workplaces, waterfront living and a variety of dining and shopping options.
Setting a new standard for integrated mixed-use developments, MBFC has played an important role in Singapore's continued economic growth. On opening, it attracted global firms, such as Standard Chartered Bank and American Express. This success continues and in December 2022, HSBC announced the opening of its new head office in MBFC.
The CTBUH Awards recognize projects and individuals that have made extraordinary contributions to the advancement of tall buildings and the urban environment. All Award of Excellence Winners were presented at the international conference 'Humanizing High Density' which was held in Singapore, October 16-18. Overall category winners were announced at a Gala dinner on Wednesday 18. Find out more about the international conference here.