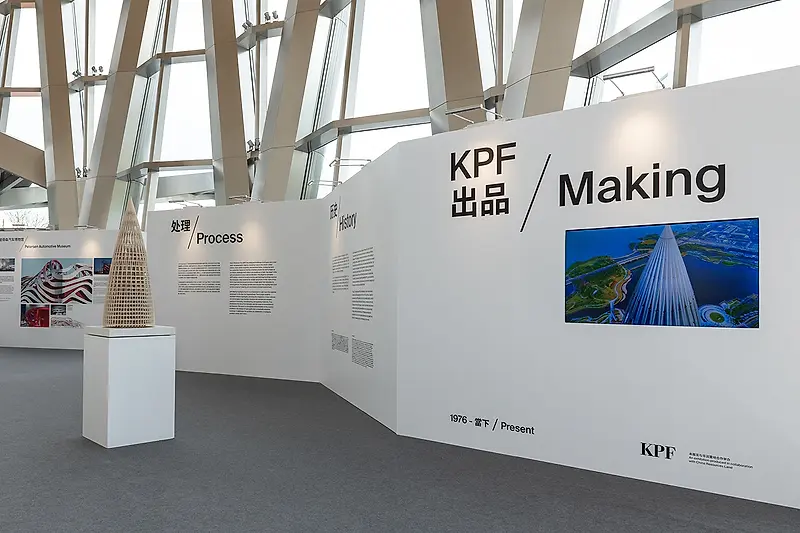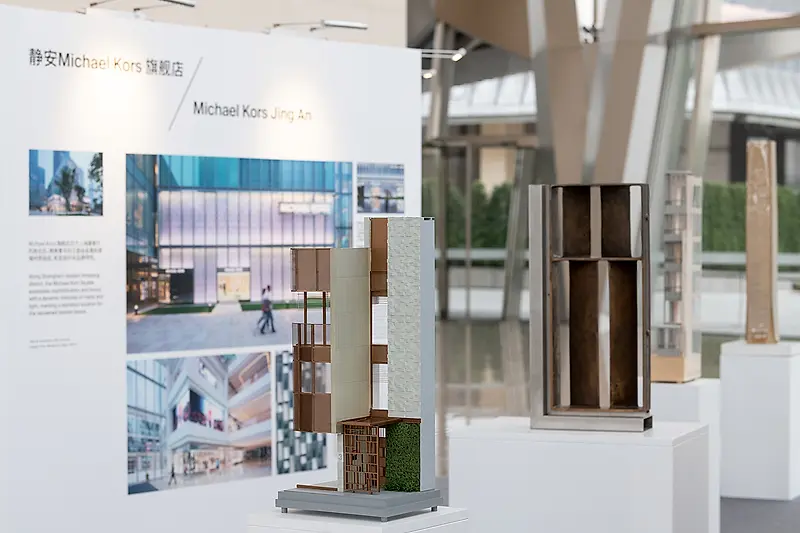 Exhibit Staged in Shenzhen's Latest KPF-Designed Tower
China Resources Tower's dynamic lobby space offered the perfect venue for a show focusing on craft.
Traveling across China, KPF Making found its most recent home in one of the firm's tallest towers. Completed this year, China Resources Tower anchors the city's burgeoning Houhai District with a design distinguished by its innovative structure and geometric precision. Open to the public, the lobby reveals the tube and diagrid system that scales the 392-meter building. Fifty-six vertical columns converge into twenty-eight columns at the lower and upper sections of the tower, forming a series of entry portals at its base and merging to a singular point at its peak. At these junctures, faceted, triangular glass panels illuminate at night with a jewel-like brilliance across the waterfront.
The exhibit's most recent layout conjures the effect of the architecture. Rendered as zig-zagging walls, the exhibit displays the primary projects as case studies and secondary projects as individual swatches. In this series, KPF paid special attention to the design and construction of China Resources Tower, including a bespoke project video, process and presentation models, and additional imagery and information relating to the aforementioned scheme.
Hosted in April, the show coincided with the annual Council for Tall Buildings and Urban Habitat (CTBUH) Conference held in Shenzhen. Many KPF architects and clients were able to visit the exhibit and experience its content and the KPF-designed space in tandem.
KPF Making began in Beijing and traveled to Hong Kong and Hangzhou, before this display mounted in Shenzhen. The show highlights the firm's commitment to craft, from the supertall tower to the low-rise neighborhood. Its content demonstrates the studio's prowess in the design of high quality and contextually sensitive buildings, celebrating the architect as collaborator, investigator, problem-solver, and maker.