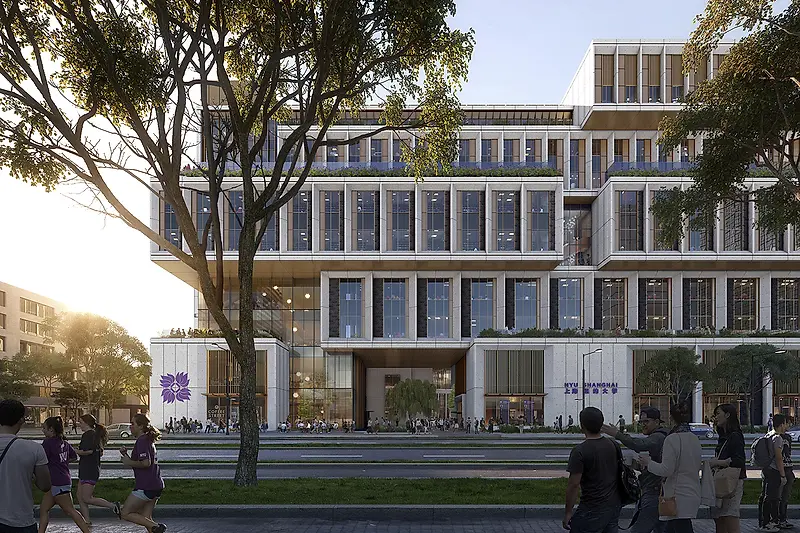 Elie Gamburg Discusses Academic Design Projects in China at BEED Asia
On July 13th, the KPF Principal presented NYU Shanghai, a KPF project that serves as a gateway for Chinese students to the world and international students to China.
In line with this year's conference theme, "How to Build an American Style School in China," Elie explored the benefits of blending cultures and disciplines within an education building. In his presentation, Elie discussed KPF's partnership with NYU, including collaborations on multiple projects, such as Furman Hall and the College of Nursing, College of Dentistry & Bio-Engineering Institute in New York, and the Pudong campus in Shanghai.
Currently under construction, NYU Shanghai is a full campus organized into one city block in Qiantan. The design blends traditional aspects from both western and Chinese education design, taking inspiration from both abbeys and scholars' gardens. Working with both eastern and western stakeholders, KPF integrated NYU's mission of providing a liberal arts education with the Chinese desire for specialized programming, resulting in a pinwheel arrangement of four different buildings.
The Better Educational Environment Dynamic (BEED) summit took place on July 12th and 13th. Learn more about the conference here. Last year, Principal Jill Lerner attended the conference to showcase HKUST Guangzhou.