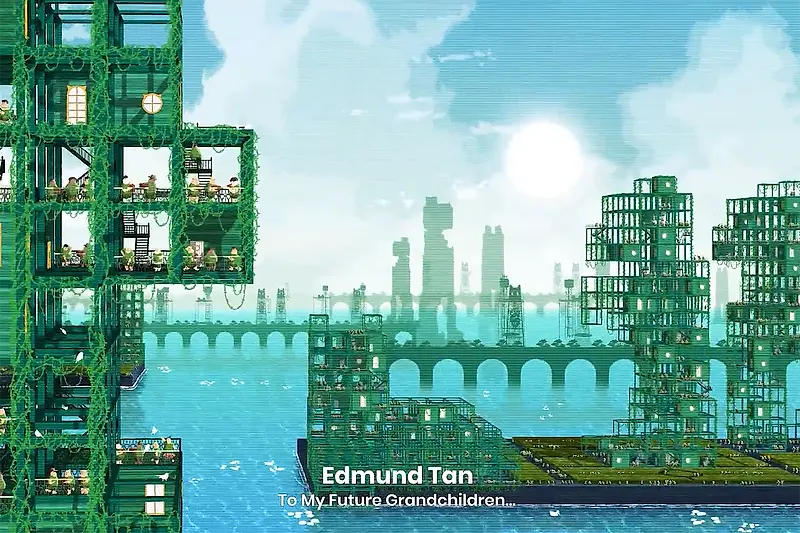 Edmund Tan Presents "A Love Letter to Architecture" at Urban Cross Gallery
The Architectural Designer from KPF's London office took part in a consortium with five fellow graduates of UCL Bartlett for an exhibition located within Shanghai's iconic preserved Wu Kang Building.
The exhibition at the Urban Cross Gallery featured young architects from Unit 10 of The Bartlett School of Architecture at the University College London as they presented on the theme, "A Love Letter to Architecture." Each designer displayed their own piece with the intention of immersing viewers in the romantic space and language of architecture.
Edmund's piece, "What if Civilization were Given a Second Chance," explores the possibility of an idyllic utopia, such as the pastoral Arcadia. He explains, "By learning from history and engaging in innovative discussions about today's crises, we can derive an urban and architectural design that addresses climate degradation, resource depletion, and human specificity. With the help of technology, Arcadia will be realized." Edmund credits the movie WALL-E for inspiring his piece and its role as a warning prophecy for climate disaster.
Edmund was joined by fellow UCL Bartlett alums Jess Yu, Yongwoo Lee, Hugh Kam, Billie Jordan, and Deng Xiaoliang.
The event ran from February 12th to the 21st at the Urban Cross Gallery in Shanghai. The event was possible thanks to Prof. CJ Lim and Simon Dickens, RAC Studio, RIBA, Urban Network Office, and Vimmer Design Lab.
Learn more about the exhibit here.