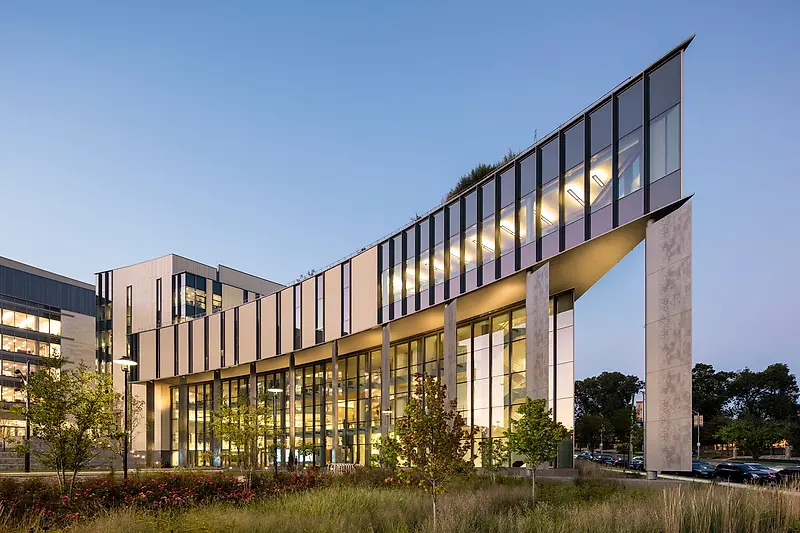 Earl G. Graves School of Business & Management Building Wins AIA Baltimore Excellence in Design Award
The prestigious awards program has recognized the new six-story, 135,000-square-foot building at Morgan State University in the Institutional Architecture category.
Replacing the School's 1970s-era facility, the new building supports the University's business and management programs and services with state-of-the-art learning, study, and collaboration environments, along with inviting public spaces that nurture community engagement. The design reflects the energy and spirit of the School, offering a framework for creating a strong academic community, while embodying the University's commitment to sustainability.
Architecturally, the triangular building serves as a physical bridge between the University's West and Main campuses, and provides a metaphorical connection between the University's past and its future. The building stands on the site of a historic moment in the civil rights movement, when Morgan State successfully protested for the desegregation of the Northwood Theater in 1963. The project also signals the University's new role in the community, reflecting an ethos of openness and welcome, with the transparent curve of the atrium's façade opening out onto the terraced West Quad.
AIA Baltimore's annual Excellence in Design Awards program recognizes excellence in architectural design by chapter members as well as AIA members with projects in the region. Built and unbuilt work is judged by a distinguished jury of AIA architects. Learn more about the program here.