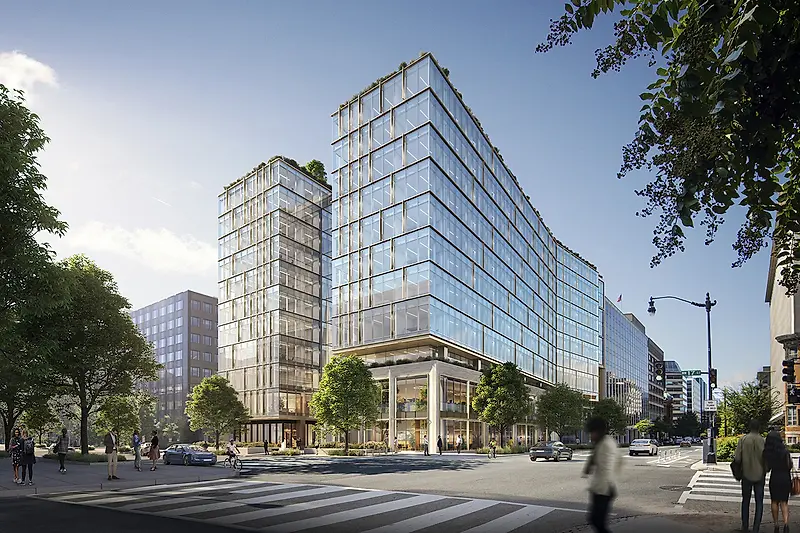 Doug Hocking Participates in Bisnow Panel on Reinvigorating Downtown D.C.
On September 23rd, the KPF Principal lended both a local and national perspective to the discussion, which focused on bringing individuals and businesses back to the city's Downtown.
The panel "Reinvigorating Downtown D.C." was part of the Bisnow conference "D.C. State of the Market." The in-person conference served as a welcome back to the city, with panels discussing the city's resiliency and new, emerging markets and neighborhoods. With KPF's recent and ongoing projects in D.C., Doug provided insight into their impact on the city, and shared experience from his work in other markets. KPF's 17xM innovates on the typical D.C. block structure through a building massing that pulls back from the street to form pockets of public space, creating an inviting plaza and providing visual relief from the typical street wall. 17xM also includes a private drop-off zone that reduces traffic in the downtown area. Outside of D.C., the firm's extensive portfolio of repositioning projects informed Doug's perspective on outmoded or underperforming structures in the city and what unique opportunities they provide for redevelopment.
Doug was joined by Katie Yanushonis, SVP, The Meridian Group; John McDonnell, President, Clyde's Restaurant Group; Oliver Carr, III, CEO, Carr Properties; Lucia Hedke, Principal, CRESA; and Eric Martino, COO, ThinkFoodGroup. Agnie O'Grady, COO, Partner, StellaPop, moderated the panel.
The conference was held at the JW Marriott Washington D.C. on Thursday, September 23rd, with Doug's panel beginning at 9 AM EST. Learn more here.