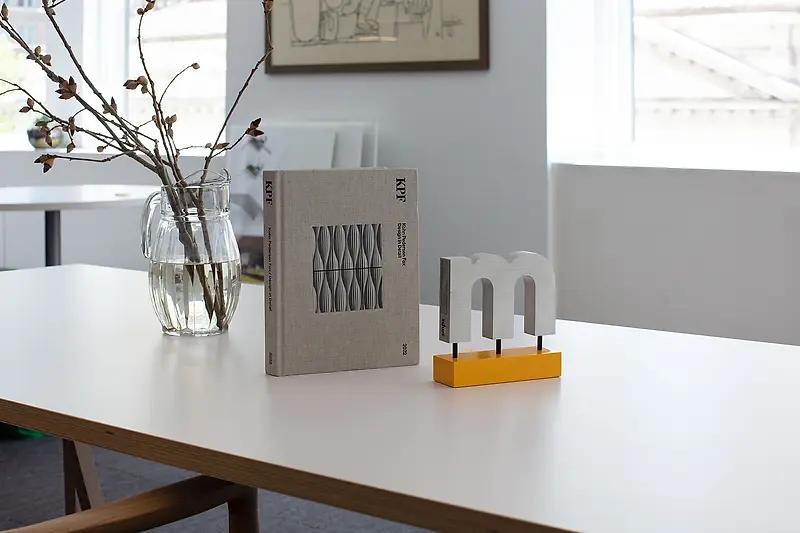 Design in Detail Wins Award of Excellence in Marketing Communications Awards
KPF's recent self-published book took home the top recognition in the Book/Monograph Print Edition category of the Society of Marketing Professional Services (SMPS) awards program.
An in-depth look at 14 iconic KPF buildings, Design in Detail reveals how the overall design concept is realized down to the smallest scale with crafted elements such as custom-glazed terra cotta tiles, cast bronze art, and carved blocks of stone. The volume showcases KPF's commitment to design excellence down to the finest detail, and emphasizes the fabrication and computational methods architects use to help solve contemporary design challenges at scale.
Recognized by the awards jury for "appealing to the artistic, meticulous craft of architecture," part of the firm's goal in producing the book was to create a well-crafted object to match our thesis. Choices of printing method, binding, cover cloth, and paper reflect the quality design of the contents within. Hand-finished by SIZ, Italian fine art book printers, Design in Detail reinforces the fact that in a digital world, tactile design is as important as ever.
Purchase the book on Amazon here.
The SMPS Marketing Communications Awards Program is the longest-standing, most prestigious awards competition that recognizes excellence in marketing communications produced by professional services firms in the design and building industries. Read more about the program and see other winners here.