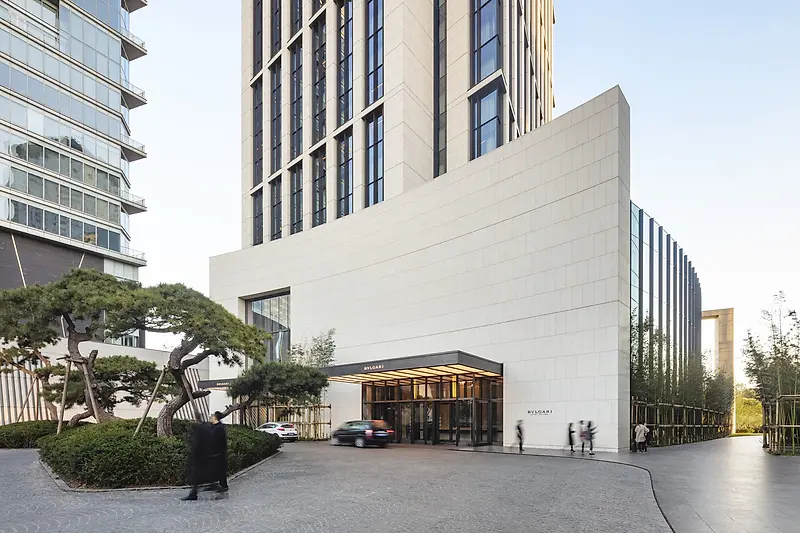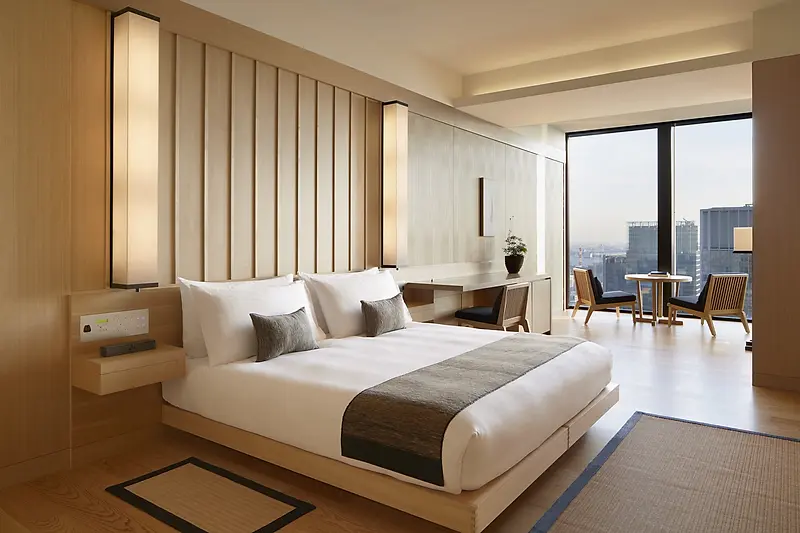 CN Traveler Selects Bulgari Beijing and Aman Tokyo as "Best Hotels in the World"
On its 2022 Gold List, the travel magazine honored the two hotels housed in KPF-designed buildings.
The Bulgari Hotel is located in Genesis Beijing, a mixed-use development set on the banks of the Liangmahe River and overlooking the northward embassy district. Among its uses outside of hospitality are office, retail, residential, and museum programs, integrating cultural sites and public spaces to build community. A limestone clad tower contains the Bulgari Hotel and Residences and connects to the low-rise museum. Its lobby, bar, restaurant and ballroom spaces overlook private gardens and the river, creating a serene destination set apart from the busy urban context while remaining engaged with the public gardens.
The Otemachi Tower, in the heart of Tokyo's business district, comprises both the headquarters for Mizuho Bank and the five-star Aman Hotel. Located at a hub of subway lines, the building contains a retail concourse connected to Otemachi no mori, a public park on the western perimeter of the site. The structure's rectilinear form features expansive glass walls, separated by pairs of deep vertical fins made of cast aluminum. From Aman Tokyo's accommodations, visitors have views of the Imperial Palace Park to the west, and Sumida River to the east.
This is Aman Hotel's third appearance on the Gold List, and 2021 was its fourth consecutive year receiving the CN Traveler Readers' Choice Award. Read more about the past honors here.
The Gold List is curated by Condé Nast Traveler's global editors to reflect their favorite hotels and resorts in the world. Read the 2022 list here.