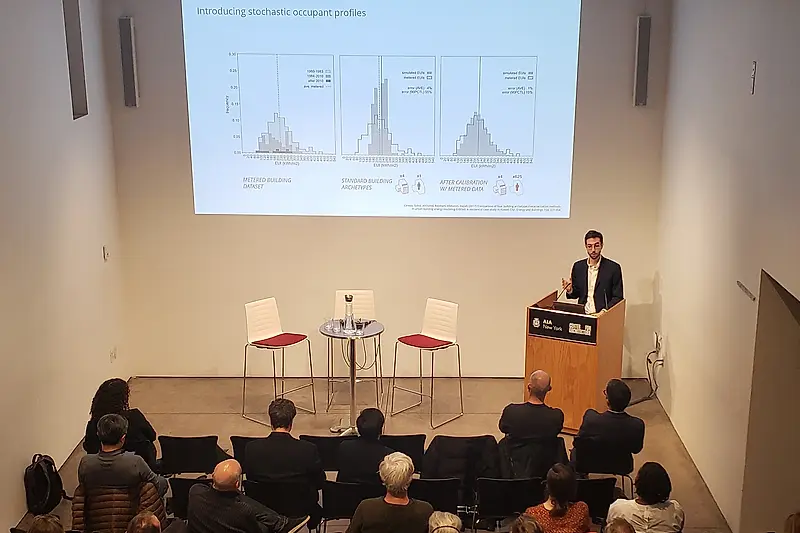 Carlos Cerezo Davila Presents Urban Energy Modeling Solutions
The Environmental Design Director shared tools and case studies alongside consulting colleagues at the Center for Architecture in New York.
Cerezo Davila reviewed data-related challenges when modeling building energy use at the city scale and shared insights about the Urban Building Energy Modeling (UBEM) field's urban-scale-specific modeling methods. He identified these tools as key drivers that will enable the management and implementation of Local Law 97, which seeks to make New York City a global leader in the fight against climate change and pledges that the city will be carbon neutral by 2050.
Cerezo Davila leads KPF's effort to minimize the firm's environmental impact, and along with the Environmental Performance team, develops building performance simulation tools to inform and improve the firm's designs. Drawing from his experience at KPF, he shared case studies including the upcoming Hong Kong University of Science and Technology, an innovative campus in Guangzhou targeting carbon neutrality and zero water waste.
Before joining KPF, Cerezo Davila worked as a research scientist and instructor at MIT's Sustainable Design Lab, collaborating with municipalities including Boston, Lisbon, and Kuwait in urban energy analysis. He is a licensed architect by the University of Seville (Spain 2010) and has practiced in Spain, Japan, and the United States. He also holds a Master's from Harvard University (2013) and a PhD from MIT (2017).
Other presenters at the Center for Architecture event included Shreshth Nagpal, Principal at Elementa Engineering and James Perakis, Associate at Elementa Engineering. For more information about KPF's sustainability initiatives, click here. To register for upcoming talks at the Center for Architecture, click here.