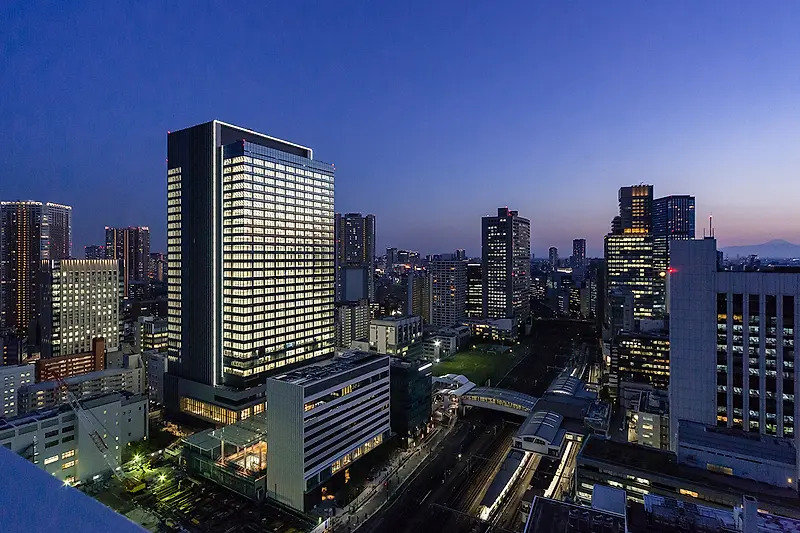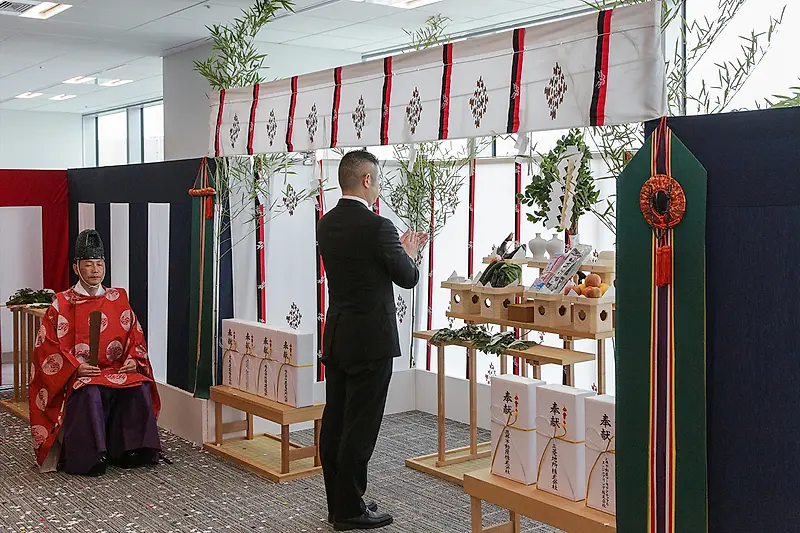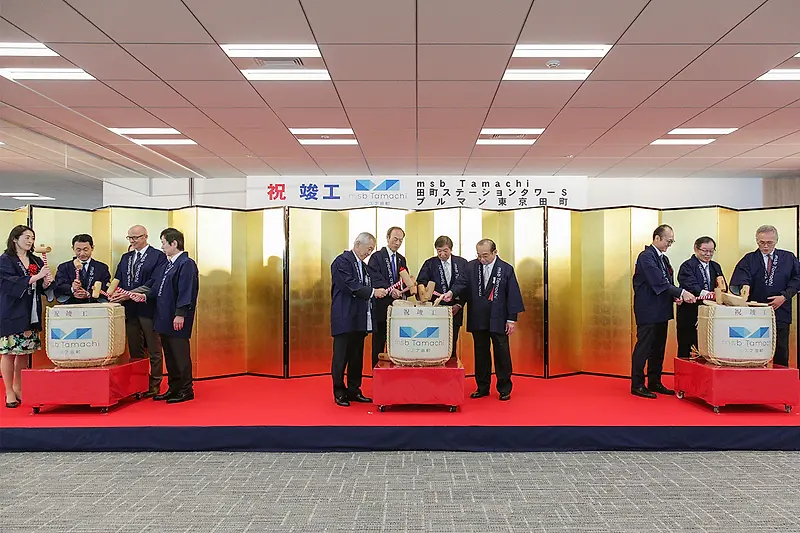 Ceremony Honors MSB Tamachi Grand Opening
On April 27th, KPF commemorated the opening of MSB Tamachi in Tokyo with a ceremony blending traditional and contemporary elements. Serving as the headquarters for Mitsubishi Estate, the 593-foot, multi-purpose tower and podium comprise over 3 million square feet of space, deeming it one of the latest, large-scale developments in the Tokyo Bay region.
Designed to globally connect to its locale, the tower intentionally references its local context and the culture of the Rinkai region. It also offers access to a train station, creating opportunities for commercial and retail activity. The east and west façades contribute to the flow through "mass" and "frame" with multi-tiered, connective passages of retail mall, waterfront park, elevated deck, and railways. Reveals set within the spandrel panels and horizontal fins create a variety of depth, shadow, and texture that contribute to its sustainable performance.
The "mass" contains widely spaced horizontal sunshades, allowing stunning views towards Tokyo's cityscape, the bay, and Mount Fuji. The "frame" features vertical piers that envelops the tower mass like a screen, providing a sense of privacy for office spaces. Dominant urban elements of railways and waterways contrast the site's natural greenery. The convergence of the global and local, natural and man-made, intersect to mediate these juxtapositions, creating one harmonious whole. The two towers prominently add to the Tokyo skyline; together, their forms create a distinct image of a gateway. Combining key elements of "mass" and "frame," MSB Tamachi transforms the Tokyo Bay region into the "south gate" of Tokyo. 
The tower also reiterates its local heritage. "The project takes inspiration from traditional Japanese elements and incorporates them in a design that is modern yet retains a distinct Japanese identity without resorting to clichés," stated Ko Makabe, Design Principal for MSB Tamachi. "Harmony with nature is an essential concept in traditional Japanese architecture and is continued in the design of the MSB Tamachi Project."