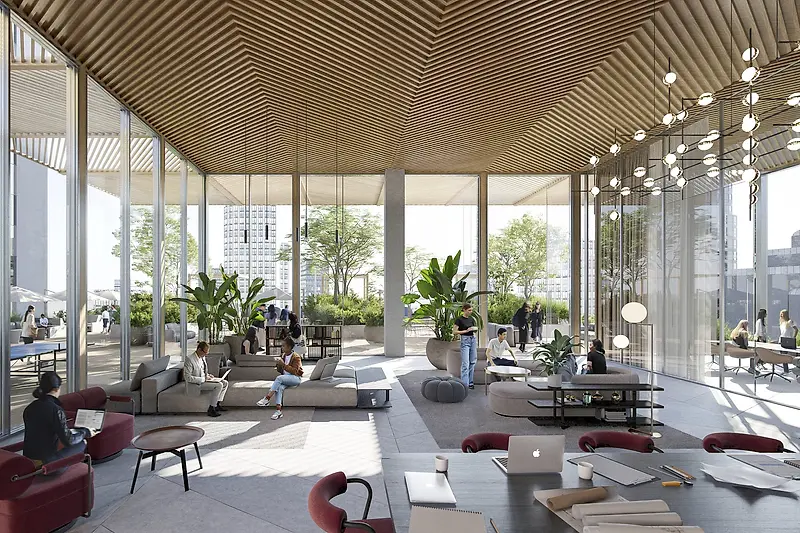 Burrard Exchange, Now Approved for Construction, Will Be "Transformative" for Vancouver
Slated to be the tallest hybrid mass timber office building in North America, the project was given the green light by the city's Development Permit Board earlier this month.
The Urban Design Panel noted that Burrard Exchange is a "sustainably-minded . . . clever infill project, and the breezeway works successfully." The building is a modern, loft-like structure with healthy, light-filled workspaces. KPF's innovative design uses mass timber, typically reserved for low-rise structures, to create a state-of-the-art green office tower, reducing the building's embodied carbon. The mass timber is also a key design feature, intended to be unencapsulated and visible, highlighting and celebrating the project's sustainable aspirations. "It is an attractive building in a prominent location," said a panel member.
Replacing the site's existing parkade, the development offers new street frontages, amenities, and retail space to service the entire Bentall Centre and its environs. Burrard Exchange's lobby connects to the below-grade Shops at Bentall Centre, with retail and services for tenants and the public. "There is a good approach to the public space, sustainability targets, and incorporation of the retail," the committee said. A panel member commended the project's public realm features, saying that they "will be transformative for the city."
Read the committee's full meeting notes here.