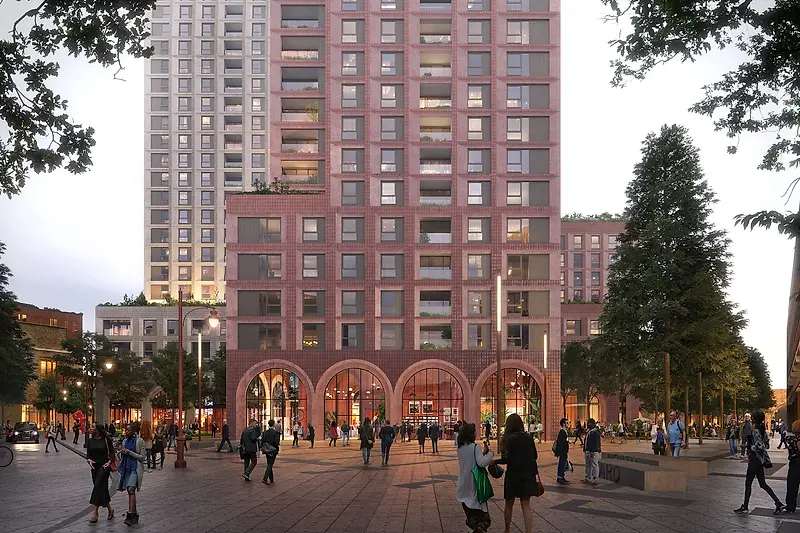 Bermondsey Masterplan is Shortlisted in the Planning Awards
KPF's masterplan in Bermondsey for Grosvenor Britain & Ireland has been shortlisted in the Housing category of the Planning Awards.
The masterplan, which achieved planning permission in February 2020, re-imagines a former factory site, closed for 30 years, and comprises more than 1,500 homes (35% affordable); a 600-place secondary school (by Cottrell & Vermeulen); and about 14,000 sqm of flexible employment space. Designed with a particular emphasis on the public realm, there will be three acres of public and play space, 141 new trees and no private cars on site. The project is being built to stretching net zero carbon, zero waste and biodiversity goals.
"We're delighted to be shortlisted in the Planning Awards," said John Bushell, Design Principal at KPF. "This project is the culmination of many year's work and community consultations – we're incredibly proud of it, but it's particularly satisfying to be recognised by our peers amongst such strong competition. Of course the true test will be what the residents and our neighbours think when the project is completed, we believe it will become a vibrant new community and deliver lasting social and economic benefits for Southwark."
The Planning Awards recognise excellence and achievement in UK planning. Finalists will be announced on June 8 & 9, find out more and see the full shortlist here.