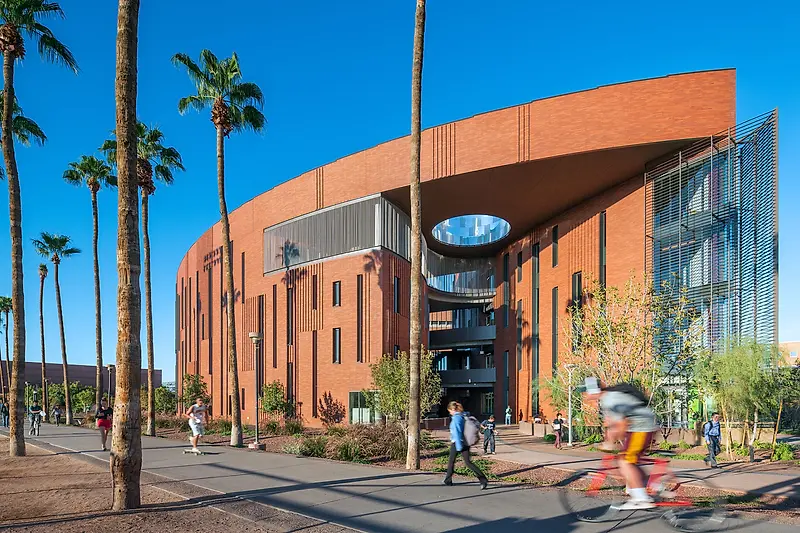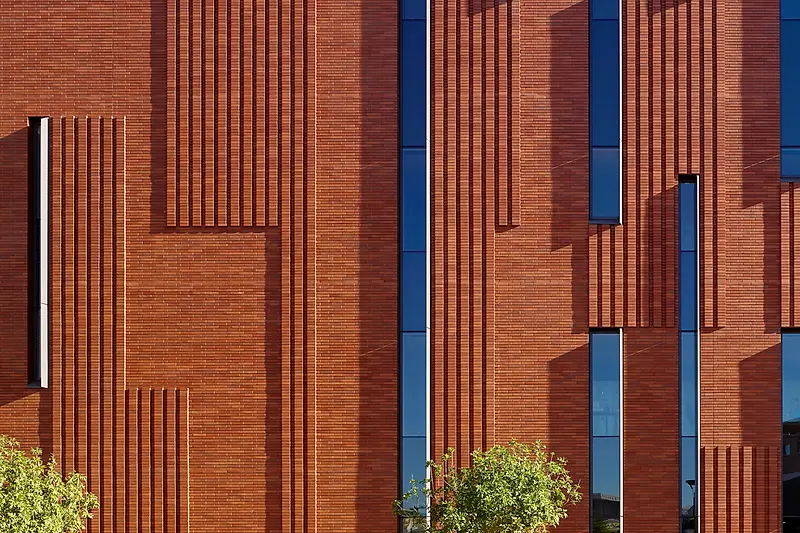 ASU Receives Highest Honor from Brick in Architecture Awards
KPF's work for McCord Hall at the W. P. Carey School of Business has been named the Best of Class in Higher Education.
Located in Tempe, McCord Hall defines the eastern edge of Arizona State University's business school district. A monumental, four-story gateway serves as the entrance to the school from Palm Walk at the northeast corner, while to the southwest, the plaza opens up to welcome visitors and the business school community.
Regionally sourced and cost effective, the building's use of brick echoes the beauty of its context and complements exposed concrete, wood, and indigenous flora catered to local climate conditions. This curving façade features a highly textured surface of projecting "corduroy" brick and deep vertical windows with projecting metal fins. Its curved form increases the natural dynamism of the projecting brick shadows and operates like a sundial, responding to the consistently strong daylight in Tempe. In all, the building's warm, multi-colored earth tones prove harmonious with ASU's existing campus and the arid, desert landscape.
The ASU design team's commitment to craft features prominently in KPF's traveling exhibit, KPF Making, in which projects are chosen for their unique and innovative application of both historic and contemporary materials. The exhibition has traveled across East Asia and South America, with upcoming stops in Europe and the United States.
In the Educational (Higher Education) category, ASU received Best in Class, while several other projects were selected for Gold, Silver, and Bronze awards based on their scores totaling in the top percentages. KPF recognizes the importance of the team's collaboration with RSP, Architect of Record, DPR Construction, Construction Manager, and Rhino Masonry Inc., Masonry Contractor.
Since 1989, the Brick Industry Association has sponsored the Brick in Architecture Awards as one of the country's most prestigious architectural award programs. As the only national association to represent both manufacturers and distributors, BIA is the authority in the clay brick industry. Read more about their mission here.