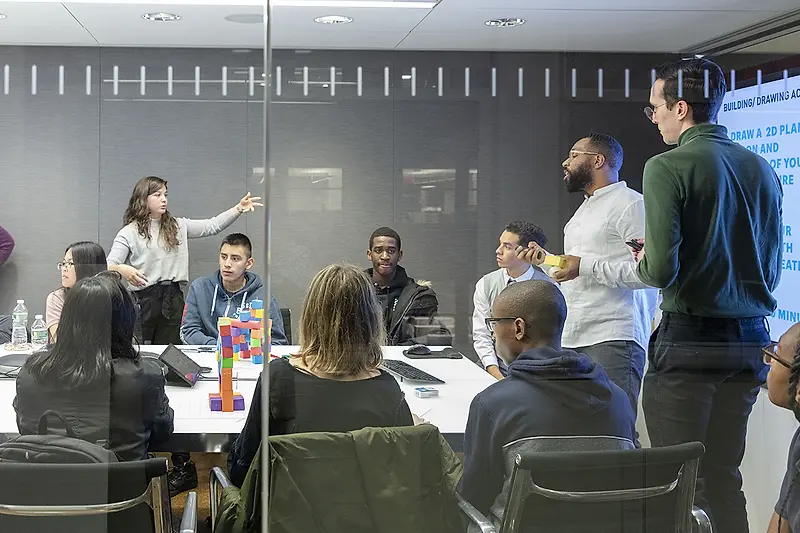 Architectural Record Profiles Industry Efforts to Address Racial Discrimination
KPF President James von Klemperer discussed the firm's ongoing efforts to address racial injustice, including KPF Public, a collaborative within the firm seeking diversity, equity, and inclusion, both internally and through outreach.
The piece notes that many firms have come together in company-wide virtual meetings and vowed to make changes in response to the killing of George Floyd and the Black Lives Matter movement.
In addition to expanding existing efforts, such as ACE Mentoring events (pictured above), author Sarah Amelar notes that KPF Public's commitments include "firm-wide education about racial injustice; expanded efforts to increase diversity and opportunity for people of color at KPF and across the industry; and the active pursuit of projects that contribute to more equitable cities."
Of KPF's commitment to join Neighborhoods Now, a joint initiative of the Van Alen Institute and the Urban Design Forum, Amelar writes: "KPF, for example, joined an effort to assist, through design and logistical interventions, in the recovery of a marginalized part of Brooklyn's Bedford-Stuyvesant neighborhood, a zone hard hit by Covid. 'It has such urgency, you can feel the energy in the office—people really want to be involved,' says KPF president James von Klemperer. 'Now the goal is to make such initiatives part of our everyday work.'"
To read the full Architectural Record piece, click here.
To read KPF's statement on racial injustice from June 2020, click here.