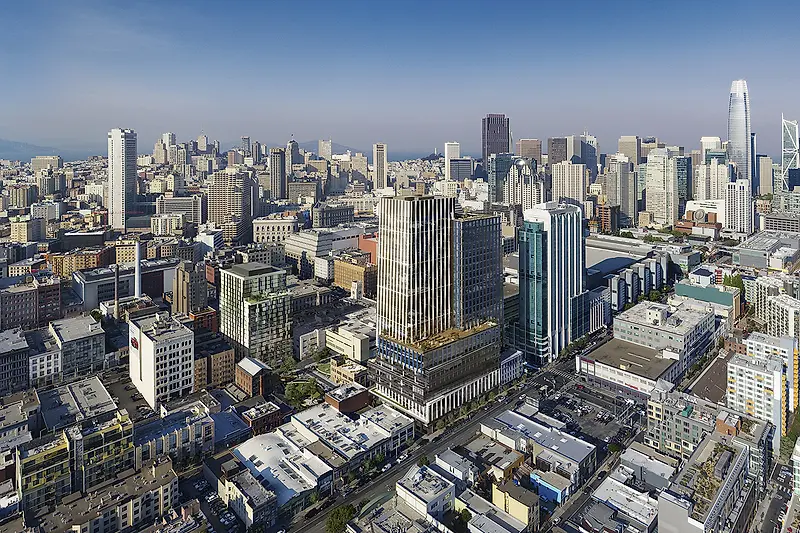 Angela Wu Participates in Bisnow Panel on the Future of San Francisco
On October 7th, the KPF Director of West Coast Operations took part in the conference "The Return to the Golden City," to provide insight into what the next decade holds for the city.
The Bisnow conference offers multiple panels covering the changes in San Francisco and techniques to attract workers and visitors back to the city, highlighting the city's resilience. Angela's panel, "The Future of Development in San Francisco" brought together industry experts to lend their perspective on the future of the market and major projects taking place in the next 5-10 years. KPF's current work in the city includes 415 Natoma, a mixed-use tower that anchors the 5M SoMA development in downtown San Francisco. The building blends public and private, along with indoors and outdoors, through an accessible ground floor with a flexible, sliding, glass wall and landscaped terraces.
Angela was joined on the panel by Christopher Meany, Managing Partner, Wilson Meany; Gino Canori, EVP & Chief Development Officer, Related California; Jack Sylvan, SVP, Development, Brookfield Properties Development; and Lada Kocherovsky, Principal, Page & Turnbull. Andrew Juniun, Partner, Reuben, Junius & Rose, moderated the panel.
The conference took place on October 7th at 8 AM PDT at the San Francisco Marriott Union Square. Learn more here.