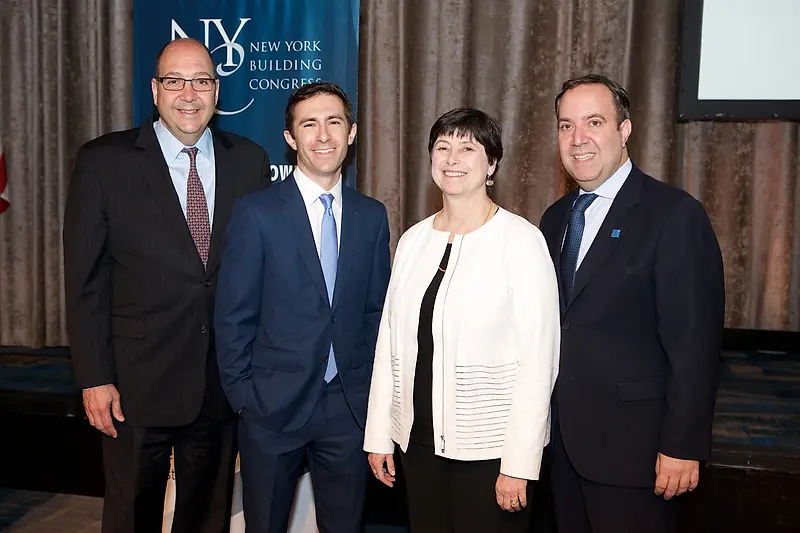 Andrew Werner Receives Emerging Leaders Award From New York Building Congress
The NYBC honored the Senior Associate Principal for his leadership as co-chair of their Young Professionals Committee and his work on 10 and 30 Hudson Yards.
Andrew and Marilisa Stigliano, of AECOM, are the founding co-chairs of the committee, which expands on the Building Congress' efforts to attract, engage, retain, and develop the next generation of industry leaders. Through events focusing on mentorship, professional development, advocacy and charitable outreach, the committee provides a venue for young professionals to help shape the built environment and chart the future of the industry.
Jill Lerner, KPF Principal and NYBC Board Member, gave introductory remarks and presented Andrew with the award on behalf of the Building Congress. In his acceptance speech, Andrew noted, "my mentors at KPF always encouraged me to ask the tough questions, to always grasp how our work fit into the larger whole, and to never be afraid to reach out to others in our industry for advice." He added, "my earliest experiences with mentorship and career development are the reason why I'm here today, and precisely why I jumped at the chance to help lead this Young Professionals Committee."
With nearly 10 years of experience at KPF, Andrew has garnered considerable expertise in the design, management, and technical coordination of high-rise, mixed-use buildings across the United States and the Middle East. His prominent work in New York includes 10 and 30 Hudson Yards, two commercial office towers that anchor the largest private real estate development in United States history. Providing 4,500,000 square feet of Class-A office space on Manhattan's revamped west side, 10 and 30 Hudson Yards are the headquarters of Fortune 500 companies such as Warner Media, KKR, Wells Fargo, and SAP. The New York Building Congress is a broad-based membership association, committed to promoting the growth and success of the construction industry in New York City and its environment. The organization provides a unique forum to advance an industry-wide agenda focusing on economic and infrastructure investment, job creation, and professional exchange with the cooperation of the contractors, architects, engineers, unions, real estate managers, developers, and owners who contribute in building community. For more information about the NYBC, please visit their website.