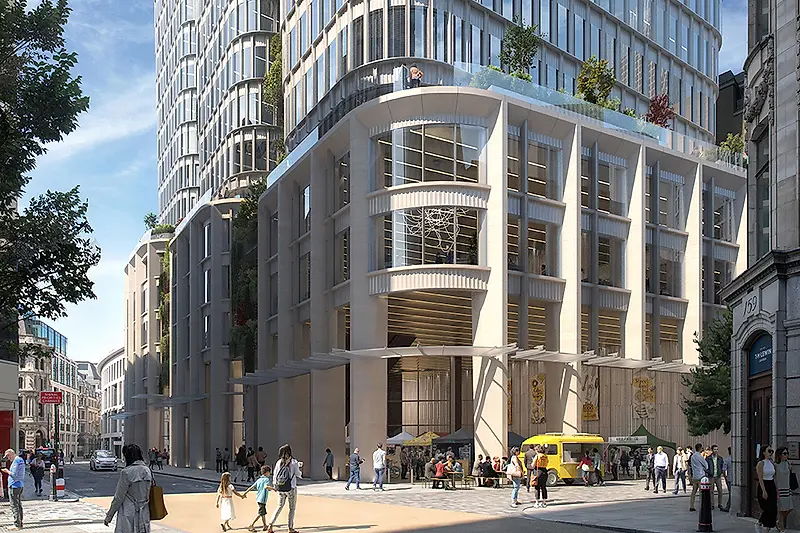 70 Gracechurch Street Approved by the City of London
KPF's plans for a 33-storey project at 70 Gracechurch Street have been approved by the City of London Planning & Transportation Committee.
The mixed-use project will provide high-quality office space, a public viewing gallery with winter garden on levels 29 and 30, and improvements to the public realm, creating greater permeability and a new link to Leadenhall Market.
"70 Gracechurch Street establishes a vision for a relevant future office and aspires to be a new voice in the Eastern Cluster," said Design Principal John Bushell. "A more articulated building, creating an elegant composition of different elements and integrating urban greening, it provides variety internally and externally to create the sort of workplace it's worth leaving your home for."
The approved plans represent a unique opportunity to improve the public realm, to widen footpaths, create new pedestrian routes and drive increased footfall to Leadenhall Market. The elevated office lobby is on levels two and three, allowing 40% of the space on the ground floor to be accessible as public realm, with flexible market halls and curated pop-up space. The vision is for an accessible and lively space where the historic market blends seamlessly with the latest retail innovations.
BREEAM outstanding is targeted, with measures including a high-efficiency façade, free evaporative cooling, natural ventilation and enhanced water saving. The proposed building will be five times more efficient per square metre than the existing building, and will consume 45% less energy per year in total.