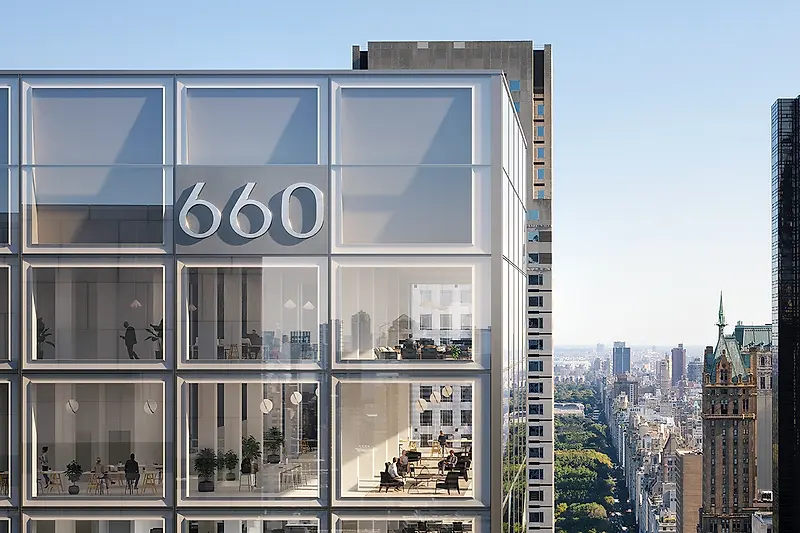 6sqft Shares 660 Fifth Avenue's New Renderings and Completion Date
Progressing on schedule, construction on the KPF-designed renovation project is slated to wrap up in 2022, with a modern look illustrated in new renderings.
The latest views of 660 Fifth Avenue highlight the new mullion-free floor-to-ceiling windows and glass curtain wall, new entry and retail spaces, landscaped terraces, and interconnected office floors. The façade design triples the window area for the office interiors, compared to the original structure, and features state-of-the-art insulation. Writing for 6sqft, Dana Schulz notes that "these will be the largest unitized windows in North America." The project's sustainability focus will cut carbon emissions by 54 percent through reduced energy consumption.
660 Fifth Avenue builds on KPF's experience with large-scale repositioning projects in New York City, including 390 Madison Avenue, for which a surgical re-massing redistributed existing square footage in the form of eight new vertical stories, Hudson Commons, which adds 17 stories above a former warehouse to create state-of-the-art office space for tech tenants, and One Madison Avenue, for which a new glass tower atop a redeveloped podium marries modern office environments with over one acre of outdoor terraces.
6sqft covers all social and built aspects of New York city, highlighting new happenings and ideas across the many neighborhoods. Read the full article from 6sqft here.