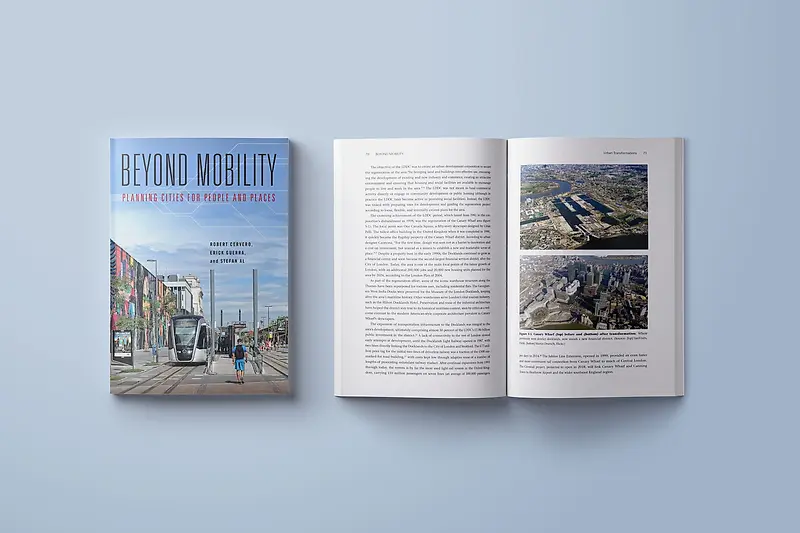 5 Questions with KPF Senior Associate Principal and Author Stefan Al
Beyond Mobility, coauthored by Al, Robert Cervero and Erick Guerra, recently won the 2019 National Urban Design Book Award. We sat down with Stefan for a brief conversation about the book and his work at KPF.
---
1. In the preface to Beyond Mobility, you write about the need to "recalibrate" urban planning. How did that become the central focus of this project?
Shifting from sprawl to more compact development is often treated in binary terms, going from one form of urbanism to an entirely different one. Instead, we advance the idea of urban recalibration, the process of changing the accumulated standards and regulations that govern the planning and design of our cities and tend to promote mobility. Our goal is to modify the focus on mobility to include the needs and aspirations of people and the places they want to go. We use "recalibration," a term found in handbooks for precision instruments, as an appropriate term to indicate gradual change for the better. It's about fine-tuning our city designs through changes in codes and standards rather than imposing radical shifts.
2. How can we build people-orientated transportation networks that still remain efficient across big cities?
We talk about efficiency of highways in terms of throughput, but other measures indicate that these networks are not that efficient. For example, we experienced about 1.2 million traffic fatalities and 3 million deaths related to air pollution in 2010 that we can trace back to global transportation networks. We tend to think of mobility positively, but we forget that transportation is a means to an end—it's necessary because it allows social or economic interaction. We need to recalibrate our priorities and pay more attention to the centers that actually generate our social, political, or economic success. When you examine other transit indicators such as environmental sustainability or social interaction, the need to expand the scope of this conversation around mobility becomes clear.
3. You believe that we can modify our priorities and achieve increased efficiency from a mobility and social standpoint?
That's right. We found that it's not just about the road network, but how that network integrates with land use. We're advocating mixed-use, higher density places that reduce the number of trips that require a car. These places will improve social and economic well-being.
4. Beyond Mobility is full of case studies that illustrate the benefits of post-mobility urban transformation. Which is your favorite?
Here in New York, the High Line stands out because its original function has been repurposed as great public space. Hudson Yards, a KPF project, also demonstrates this commitment to urban transformation from a logistical transport node to a place for social and economic interaction. In terms of transit-oriented development, Hong Kong stands out. The Hong Kong MTR (Mass Transit Railway) also functions as a real estate development firm, so the company synergizes its transport infrastructure and development projects. New construction projects are designed directly above metro stations to create a seamless and efficient transit process for individuals there. As a result, most people use the metro network and avoid car use because of this strategic system. If we only optimize for throughput, we may forgo other important factors like environmental sustainability or economic development.
5. How has your research impacted your design philosophy here at KPF?
A lot of my work here expands on the research explored in Beyond Mobility. Namely, the need for higher density, mixed-use, transit-oriented, and people-centered places. Our One Vanderbilt project near Grand Central Station is a prime example of the potential for architecture "beyond mobility." We're also planning ahead to understand the impacts of new technologies, like the effects of self-driving vehicles on parking structures. Our ability to anticipate and plan for future developments has set us apart.
---
The National Urban Design Awards celebrate the best in the design of towns and cities, streets and spaces. To read the full list of 2019 winners, click here. For more information about Stefan Al and the book Beyond Mobility: Planning Cities for People and Places, click here.