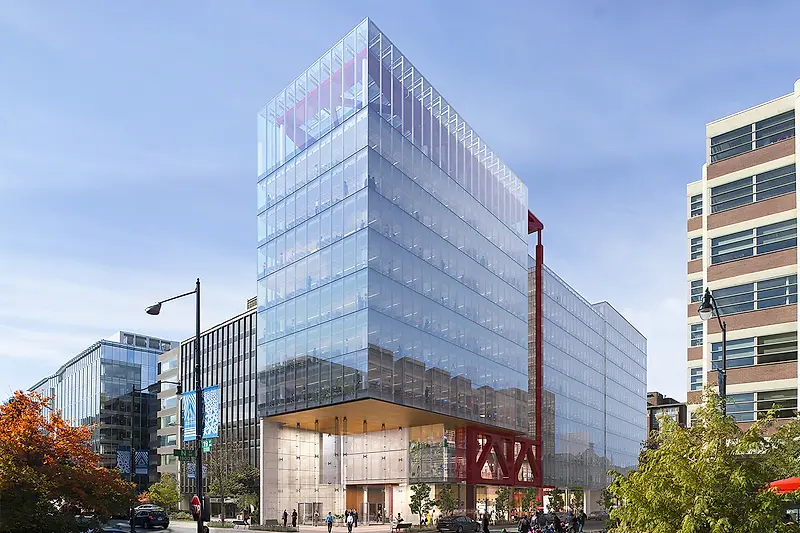 1900 N Street Opens in Downtown Washington, DC
On October 25th, KPF joined client JBG Smith and local architect FOX Architects to celebrate this milestone, where Principal Doug Hocking and Director Jenny Martin championed the project's unique design and contributions to the architectural fabric of the city.
Rising above its surroundings, 1900 N Street serves as a gateway to the city's central business district and spans an entire city block while maintaining an airy and light elegance. Its transparent, triple-height corner entry hosts an open and inviting lobby, while the primary volumes seem to float around the building's defining sculptural element—a dramatic, 12-story, red truss. The truss stretches vertically near the building's core, where it exposes an exoskeletal structure, and then angles to the east, shifting behind the curtain wall as a visible endoskeleton to define the northeastern roofline. The rooftop atrium and adjoining greenspace offers an unparalleled panoramic view of the capital. Landscaped terraces and floor-to-ceiling windows blur the line between the interior and exterior.
1900 N Street is the latest KPF project to open in the capital city. The firm's DC portfolio includes ongoing work with both JBG Smith and FOX Architects: the former with 2000 Bell Street, a new residential building in the redeveloping Crystal City area of Arlington, the latter with the recently completed 1000 Maine, the first trophy office building in The Wharf. KPF has also designed the national award-winning World Bank Headquarters, the Dulles Airport Aerotrain Station, and the Peterson Institute for International Economics. Also underway is 200 F Street, KPF's office building with the Capitol Crossing development, which reconnects the Capitol Hill and East End neighborhoods.