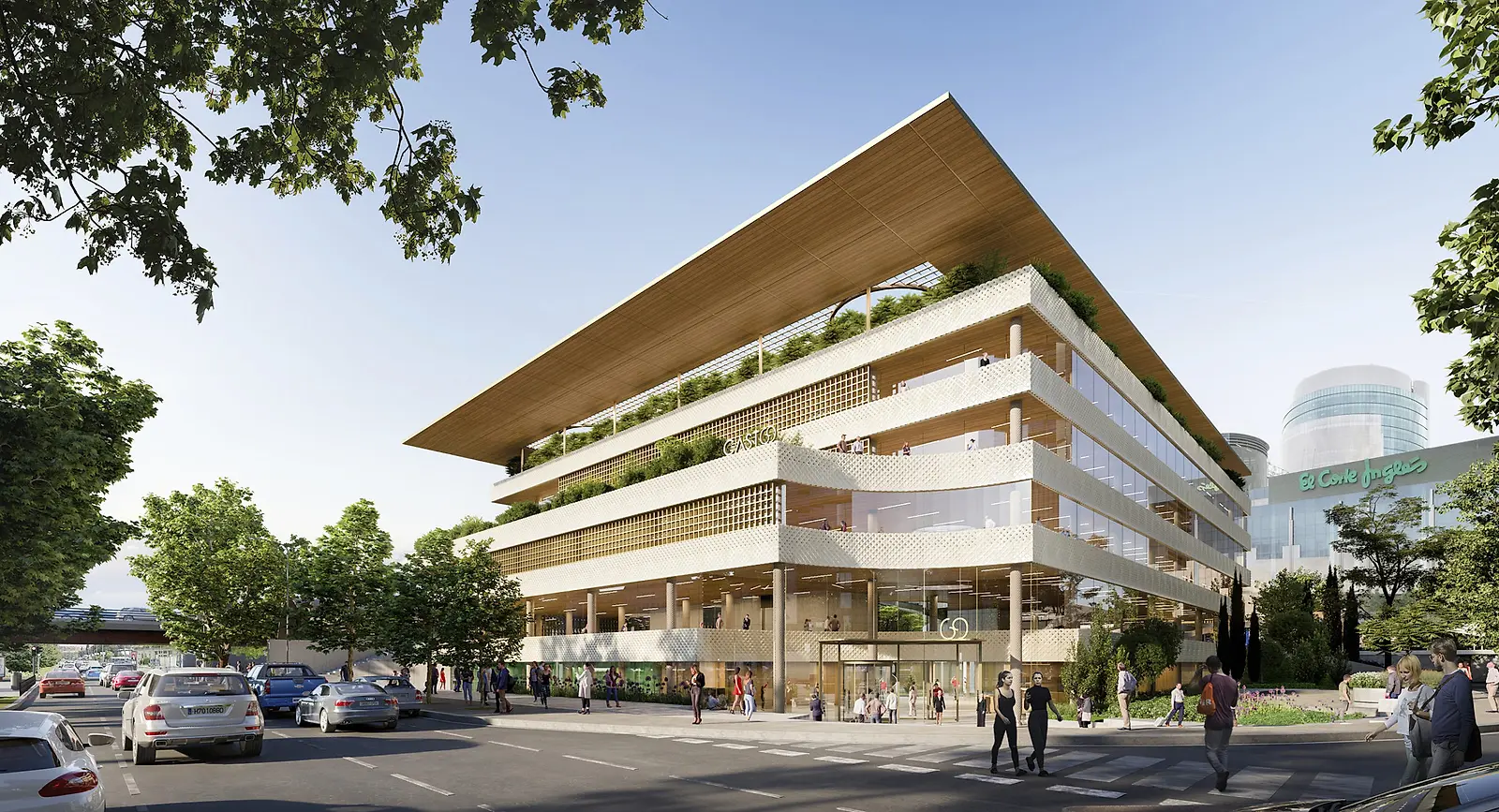 KPF's design transforms an isolated corner of the masterplan into its most prominent entrance, creating an exemplary workplace and a new destination for Madrid.
Situated at the northern edge of Madrid's central district, the project takes inspiration from the site's past, while looking forward to a zero-carbon future, embedding cutting-edge sustainability. A subtle recycled ceramic façade creates an eye-catching play of light, producing a calming effect. Constructed in collaboration with local artists and craftspeople, ceramic offers strong atmospheric resilience and is a very low-carbon construction material. The façade's division into three strata gives a view into the "green heart" of the project, spotlighted by streams of sunlight. At night, the building's lights create a second, unique view that is similarly dazzling. The building's idea refers to site's origin as a valley, dividing it into three strata. The 'bottom of the valley' enjoys natural light and a stream of water; tree-like columns in the middle stratum create a forest; and the roof acts as the 'top of the hill', open to wide views.
The central green heart is crossed by two intertwining footpaths, one for the public and one for office users, forming new routes and urban connections. The central atrium and wind chimneys provide daylight and allow airflow. A circular staircase offers an alternative to the lift, leading to the roof where occupants can enjoy a generous roof garden. Residents and the public realm benefit from a shade canopy—doubling as water collector and energy generator—and the inclusion of mist nozzles, which provide evaporative cooling. Flexible and naturally ventilated floor plates can accommodate single or multiple tenancies, and external space carries the workplace into the garden at each level. The office's plan encourages interaction and knowledge sharing, all housed on a climatic island design that benefits human wellness and biodiversity.