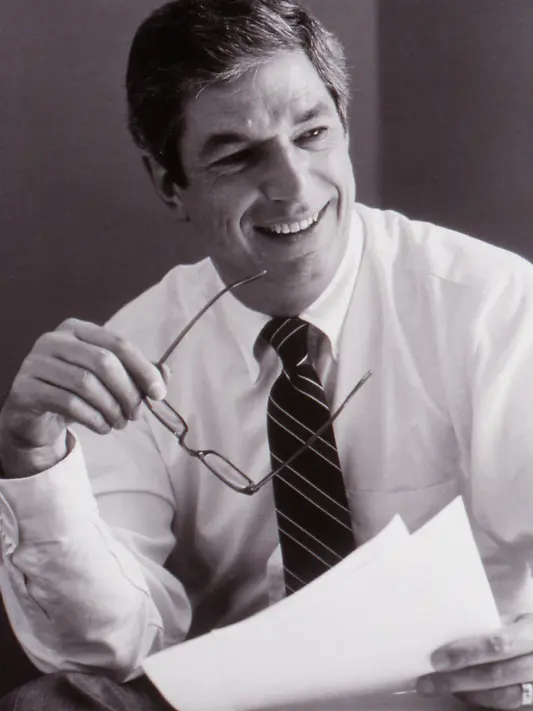 Sheldon Fox
Sheldon Fox co-founded Kohn Pedersen Fox Associates with Gene Kohn and Bill Pedersen and served as its Managing Principal and COO until his retirement in 1996, during which time the firm grew from three members to more than 300.
Shelley supervised KPF's financial details, creatively overseeing budgets so design was never compromised, and organized staff, managing firmwide resourcing over his 21 years in the position.
Prioritizing cohesion between clients, consultants, and construction teams, Shelley was involved from conception to completion of many of the firm's defining projects, including the World Bank Headquarters in Washington D.C. and 333 Wacker Drive in Chicago, both of which received AIA National Honor Awards for Architecture.
Shelley graduated from the University of Pennsylvania with a Bachelor of Architecture. Between graduating and starting his career in architecture in 1955, Shelley joined the US Army, where he was stationed in Korea as a first lieutenant. Over the course of his career, Shelley was active in the architecture and civic affairs community in New York and Connecticut, lecturing on architectural management. He was a Fellow of the American Institute of Architects and an active member of the Architectural League of New York.
Shelley retired in 1996, 10 years prior to his death on December 16, 2006. At Shelley's memorial, Bill Pedersen shared in his eulogy, "We always looked to Shelley to do what was right and what was fair. He was our moral and ethical guide. He was a compass." In Gene Kohn's 2019 memoir The World by Design, he wrote, "Shelley's great talent was to see everything holistically and place it within a larger context of what it would require to make it happen."