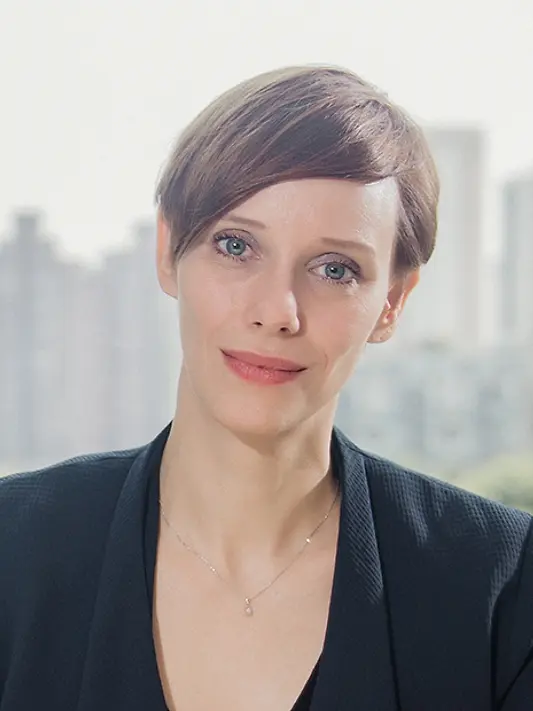 Cindy Kubitz
Cindy Kubitz is a Director of Urban Planning and Design at KPF, with diverse project experience in architecture and urban and regional planning throughout Europe and Asia. Since joining KPF in 2009, she has been itnegral to some of the firm's most complex master planning projects in China and the U.K., having spent several years both in the Shanghai and London offices.
Cindy is highly expert in the special intricacies of urban planning in Shanghai, having spent two stints in KPF's Shanghai office, beginning from 2005 to 2011 and now from 2013 to the present. Most recently in the city, she has been leading the team int he design of a mixed-use development for China Mensheng, which is comprised of over 700,000 square meters of office, retail, and hospitality space across 11 individual buildings.
 In Shanghai's historic old town, Cindy is Project Manager for Yu Garden, a master plan project that reimagines the Old City area of Shanghai to become the active heart of the city. Exuding a deep sense of history, the master plan generates a mixed-use character and livelihood that will reinvigorate the area.
Previously, Cindy worked on the development of the Meixi Lake master plan project in Changsha, China, which is a densely concentrated urban plan with a variety of building types and functions, all integrated with mountains, lakes, parks and canals. The project includes a large convention center, residnetial neighborhoods, cultural and educational facilities, medical serivce spaces, and a vast network of open spaces.
In London, Cindy has been working on the Covent Garden master plan, which aims to revitalize the mixed-use area in central London by creating an appealing destination that aligns with the area's significant historical heritage. Also out of the London office, she led the planning for the Victoria & Alfred Waterfront project in Cape Town, South Africa, a new development concept to grow both a Cape Town neighborhood, as well as a destination for culture, retail and entertainment.
Also of note, Cindy worked on the competition design for the redevelopment of Beijing's Central Business District and was involved in the planning of a mixed-use community in Yixing City to create a stunning waterfront icon, triangular in plan, housing office, hotel and serviced apartments, as well as low-rise retail and public open spaces.
Prior to joining KPF, Cindy held positions at Gensler and CH2M Hill in Shanghai, and also worked as a freelance consultant for a number of planning and design firms. While employed at Gensler, Cindy worked on the masterplan and feasibility study for Jiang Wan New Town Lots F1-F3, and the Yangpu Bridge Area master plan design competition in Shanghai as part of the Expo 2010.
Cindy has also been involved in master plan assignments in Chengdu, Lincang, Kunshan, Qingpu, and Shanghai. Prior to relocating to Shanghai, she worked for several international design studios in Germany on projects throughout Europe and Asia. A native of Germany, she is also fluent in English, Russian, and is a capable Chinese (Mandarin) speaker.