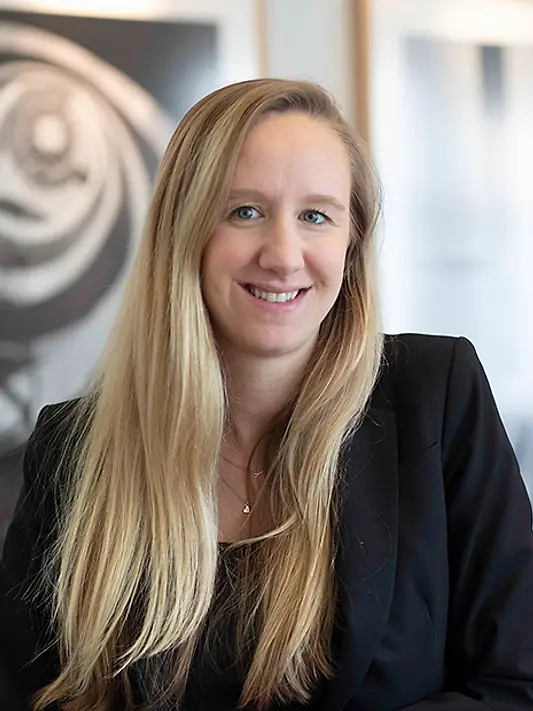 Callie Omojola
Callie Omojola has 12 years of experience working at Kohn Pedersen Fox, where she has focused on mixed-use, hospitality, and master planning projects across the United States, United Kingdom, India, Japan, and China.
Her design methodology emphasizes form and function in the planning process, promoting sensitivity to regional and local context in the pursuit of efficient buildings for clients and users alike. As a seasoned Job Captain and Project Manager, she collaborates with and organizes consultants for complex projects in various stages of design development through construction administration.
Callie's ongoing projects include Three Sixty West, a 360,000 square meter mixed-use development in Mumbai defined by two iconic towers that integrate synergy with water into their hospitality design. Connected by a podium stretching the length of the site, the towers feature a uniform vocabulary with staggered elements that create an animated, woven appearance. Callie acts as Project Manager for Qingdao International Beer City in China, which will be a high-end, mixed-use complex and future urban center that expresses a unique cultural spirit. She also managed the recent commission of Shin-Fukuoka in Japan, a low-scale, co-working and retail complex that incorporates themes of urban roof, urban grid, and urban oasis. Locally, Callie is managing the renovation of the Andaz Hotel's restaurant and storefront on Fifth Avenue in New York.
Callie is active in KPF's various charitable endeavors aimed at championing young talent and creativity. She manages the firm's volunteer opportunities with Publicolor, a youth development program that engages high-risk students in a continuum of design-based programs. She is also involved with KPF's ACE Mentor Program of America, in which staff advise high school students with aspirations to pursue careers in design and construction.