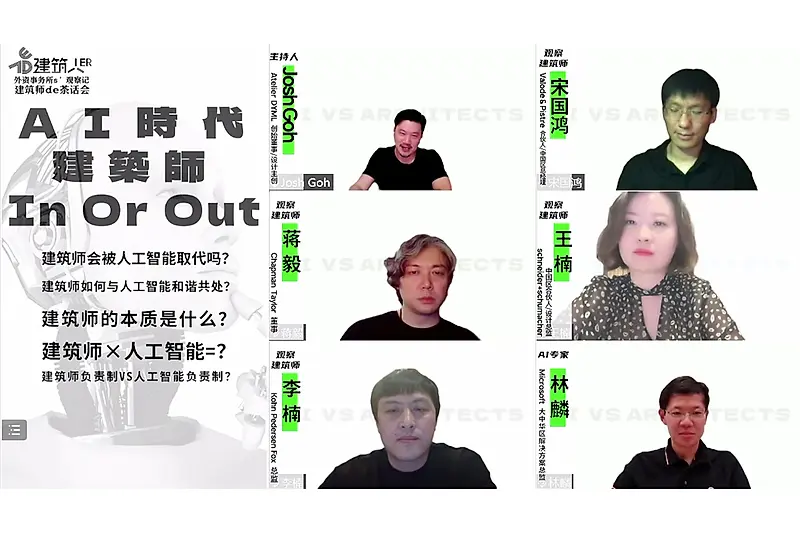 Samuel Li Considers AI's Influence on Architecture in Virtual Forum
The Director from KPF's Shanghai office joined a livestream to discuss AI and the future of the architecture field.
The forum, themed "AI: In or Out" brought together architects and AI specialists to provide expertise on the relationship between the two sectors. When sharing his insight, Samuel predicted that "architects and AI will become intertwined. Architects' workflow can be divided into innovation, production, and experience. Of those three sections, production and experience work could be taken by AI gradually, as AI is widely recognized to be more precise, efficient, and 24-hour nonstop." Samuel noted the importance of sentience as a driving force for security, identity, and motivation, indicating that innovation work should be left to humans.
Samuel highlighted KPF's Digital Practice team, which has created viable proprietary products to automate workflows and bring new insights to design, benefiting energy conservation, machine learning, and web development. He added that these innovations allow designers to make better-informed decisions during the creative process.
Samuel was joined on the livestream by Yi Jiang, Partner, Chapman Taylor; Nan Wang, Partner, Schneider + Schumacher; Guohong Song, Partner, Valode & Pistre; and Lin Lin, A.I. Specialist, Microsoft. The event was moderated by Josh Goh, Founder of Atelier DYML.
The event took place on June 9th. Watch the recording here.