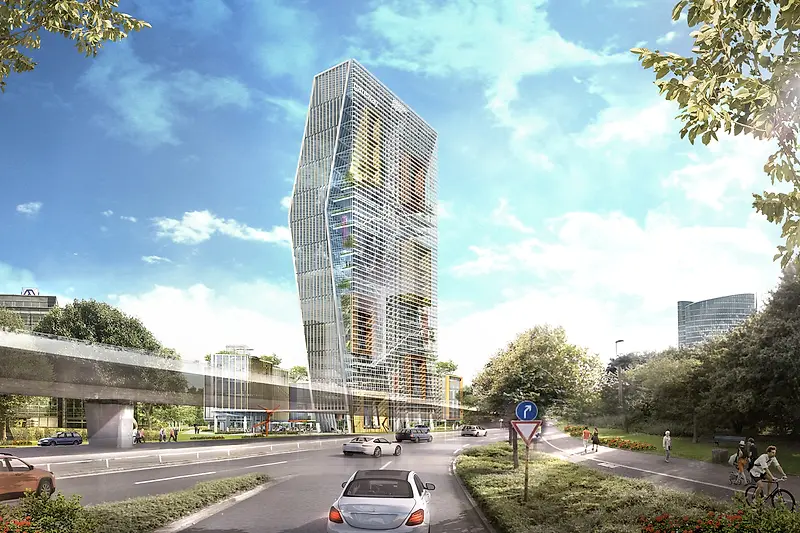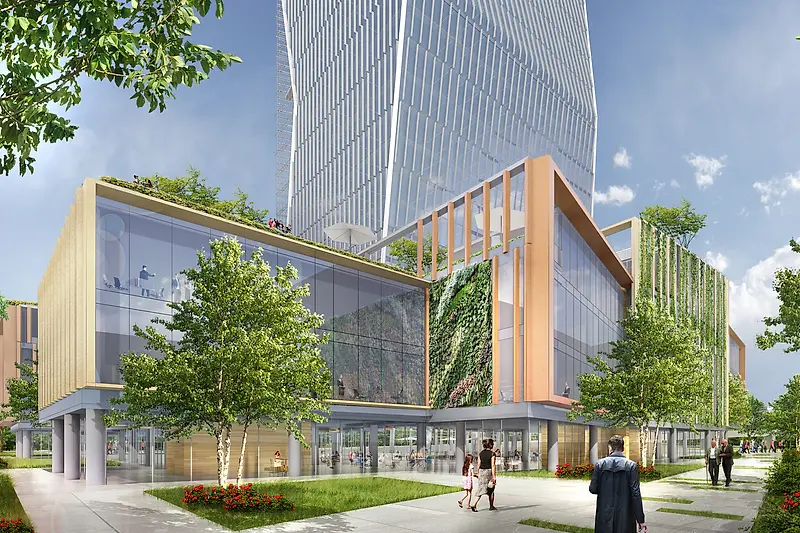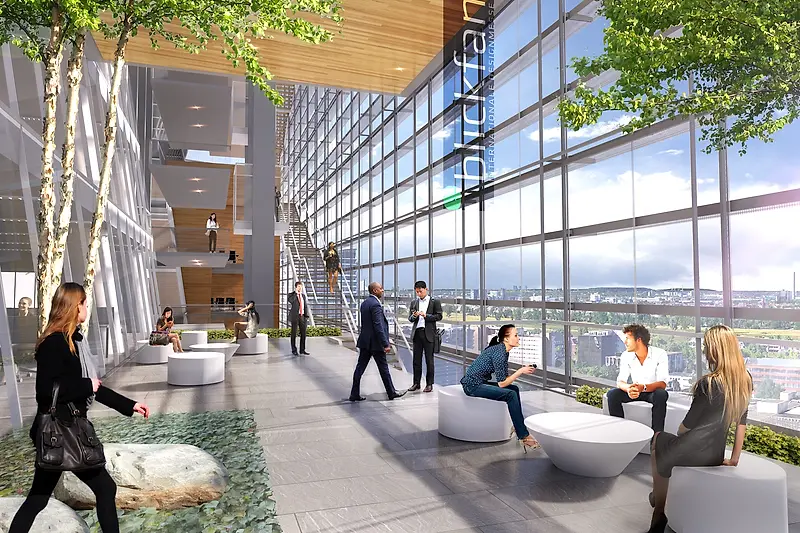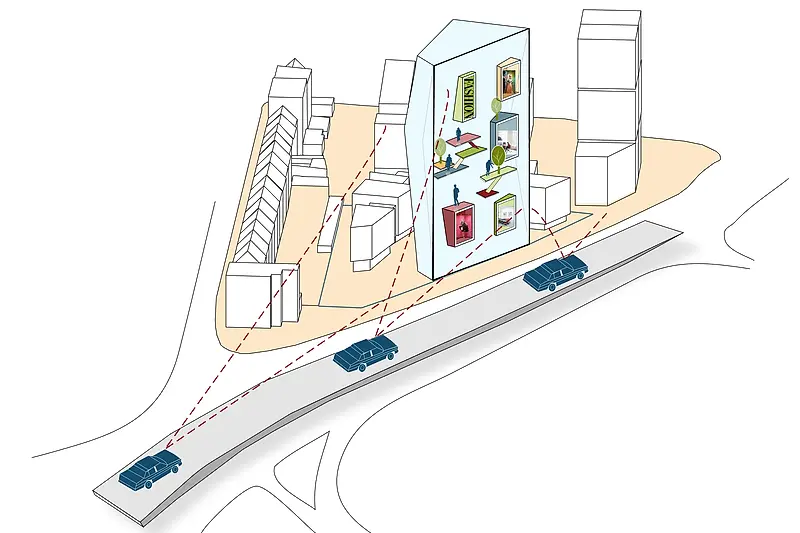 KPF Wins Competition for Landmark Gateway Building in Düsseldorf, Germany
KPF has won a competition held by Development Partner AG, in association with the city of Düsseldorf, to design a landmark building in the Golzheim business district.
Six shortlisted practices were invited to compete. A 15-member jury of politicians and experts chose KPF's winning design, which features a landmark tower (with a proposed height of 92 metres), low-rise connecting buildings and enhancements to the public realm. In total, the scheme has a gross floor area of about 42,500 square metres.
KPF's winning design includes a soaring, transparent atrium, which incorporates colourful multi-floor meeting cubes, communal terraces and flexible event spaces to create a vibrant window to the city.
The massing of KPF's scheme sensitively transitions to the surrounding area, the scale of the buildings diminishing across the site, and a public square is created between the tower and associated buildings.
Consideration for the quality of the public realm was a key focus of KPF's design, which incorporates landscaping such as roof terraces, 'green' walls and a sculpture trail plus increases pedestrian and cycle permeability. Public realm developments are an area of outstanding expertise for KPF, as seen currently in their sensitive transformation of Floral Court in Covent Garden.
The Gateway, together with the existing Sky Office and L'Oreal buildings, will become the entrance to the city from the Kennedydamm and a visual marker to provide a new identity and increased visibility from the north of the city.
The competing designs were submitted and judged at the end of September 2018 and Development Partner AG announced the results officially at Expo Real Munich on the 9th of October 2018. The planning process will start in 2019, with the aim to begin on site in 2022.
John Bushell, Principal, Kohn Pedersen Fox:
"KPF is delighted and honoured to have won this prestigious competition, and to positively contribute to the dynamic city of Düsseldorf as it looks to the future. KPF's design seeks to create a new and different workplace. Theatrical aspects of fashion and display inspired our response to the very visible location. A dramatic glass atrium provides both a stage to, and haven from, the city. Roof gardens, green spaces and intimate scale create a sensitive transition to the surrounding area."
Thomas Geisel, Lord Mayor of the City of Düsseldorf:
"Gateway Düsseldorf', by Development Partner, is an excellent example of the ongoing renewal of the business district along the Kennedydamm. This project shows how attractive and successfully sustainable the office market in Dusseldorf is. I am already looking forward to a new eye-catching building along this important route between the expo centre and the airport."
Ralf Niggemann, CEO of Development Partner:
"This new development of a real landmark in this prominent place is just as good news for the city of Dusseldorf as it is for our company itself. With regard to its significance, Gateway will create added value for the city in terms of urban planning and architecture and will fit perfectly into the market for state-of-the-art office real estate in the capital."