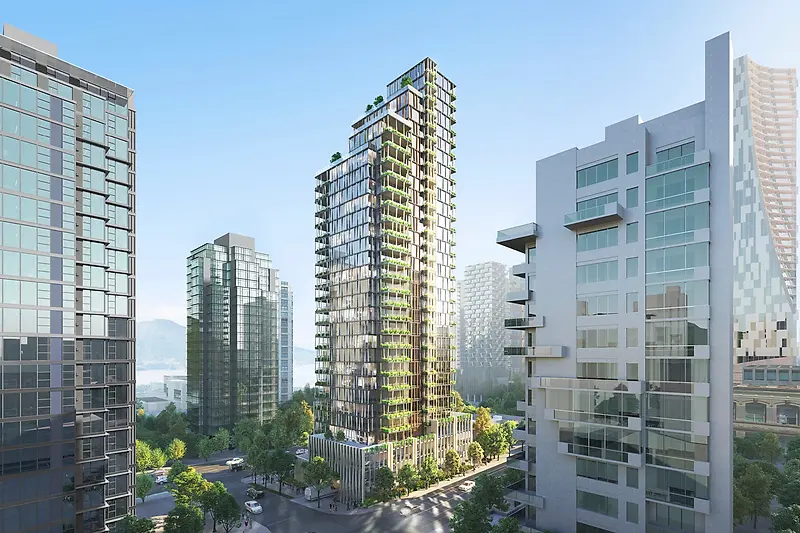 Garnering City Approval, 1698 West Georgia Street Moves Forward in Vancouver
The application was granted earlier this week to rezone the KPF-designed residential tower's site.
Located at the southeast corner of the intersection of West Georgia Street and Bidwell Street, the 33-story tower contains 127 condominium units. The tower's design is inspired by the rugged rock formations and lush greenery of the North Shore Mountains and integrates a sense of nature with the convenience of urban living.
At the base, a landscaped plaza with a two-story waterfall and articulated façade detailing establishes a prominent street presence at this key intersection, while the building's podium defines a mid-block pedestrian connection between West Georgia and Alberni Streets. Planting is incorporated throughout the podium and continues up the tower to the building's crown. Lower than its neighbors, 1698 West Georgia Street's height respects Vancouver's skyline, which descends gradually from the city's downtown toward Stanley Park. The tower's asymmetrical top emphasizes this transition, while introducing an interesting form to the neighborhood.
The project's sustainable design leverages multiple green roofs, extensive planting, and a prominent water feature to improve the public realm and align with Vancouver's goal to be the greenest city in the world. Excess rainwater is diverted to an onsite tank and released into the municipal storm system at a controlled rate while the interior finishes minimize volatile organic compounds and added urea formaldehyde to maximize indoor environment quality.
1698 West Georgia Street is being developed by Anthem Properties. Chris Dikeakos Architects is the architect of record, and PFS Studio is the landscape architect.
The project is part of KPF's burgeoning portfolio of work in Vancouver, including: 601 West Pender Street, a 29-story office tower that interweaves elements of nature with architecture to create an urban oasis within the city; 320 Granville, the centerpiece of the developing Central Waterfront Hub; 6000 McKay, a landmark of the Station Square transit-oriented development; and MNP Tower, a slender office building on the city's waterfront.
Other current residential projects by KPF include: Arthaus, a clean and contemporary tower with carefully-crafted interiors in Philadelphia; Brooklyn Point, which anchors the City Point neighborhood of Brooklyn with its sculptural façade and eclectic materiality; and Heron in Tampa, part of the Water Street development, which draws inspiration from the natural landscape while remaining attuned to programmatic needs.