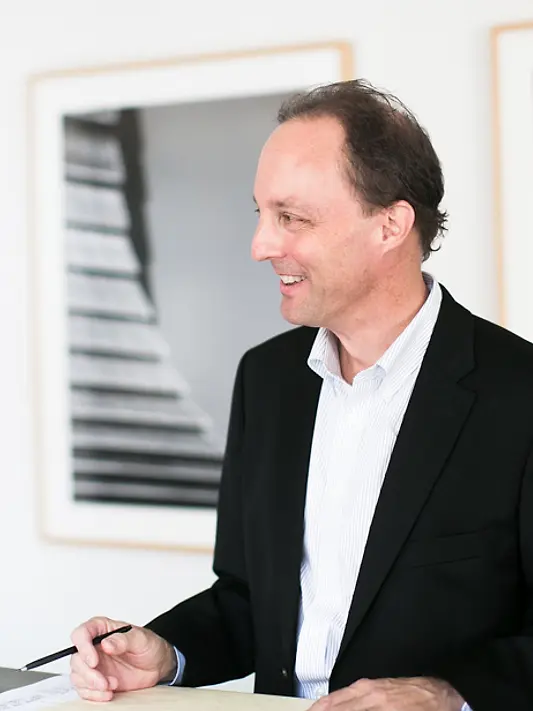 Peter Gross
As Managing Principal of significant projects around the world, Peter breaks down silos and brings together people from diverse disciplines to solve problems and generate aesthetic, sustainable, and buildable solutions.
One of the leaders of KPF's China practice, Peter applies his expertise with a range of project types to direct large, complex developments for both commercial and institutional clients. As Principal-in-Charge of the HKUST campus in Guangzhou, for example, he is oversaw the design of over one million square meters of building for 10,000 students and faculty. With an accelerated schedule and a broad mix of building types, the highly ambitious project is to generate zero water waste and be carbon neutral.
Peter's other major endeavors include CITIC Tower, the world's eighth and Beijing's tallest building, Thamrin 9, an award-winning, mixed-use development in Jakarta, and commercial complexes for Hang Lung Properties in Shanghai, Hangzhou, and Kunming.
Whether in China, Southeast Asia, or the United States, Peter bridges different working styles and balances local sensibilities with more universal concerns about space, function, and form. He has applied this approach to a series of headquarters for such companies as CNOOC and China Huaneng in Beijing, Satcom Tower in Shenzhen, the Hong Kong Electric Company, Samsung and Dongbu in Seoul, and Espirito Santo in Miami.
Peter has taught at Columbia University's Graduate School of Architecture, Planning & Preservation and has been a visiting critic at schools such as Catholic University and Syracuse. From 2004 to 2006, he served on the advisory board of ARCH-TECH magazine.