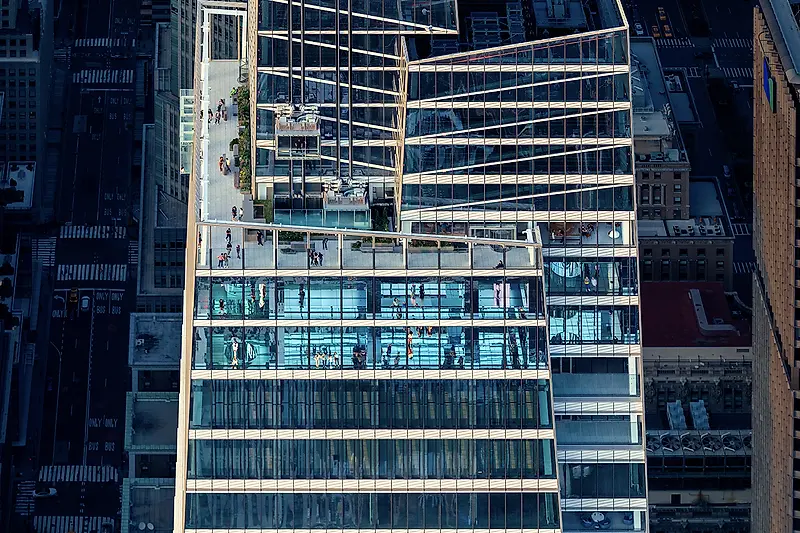 SUMMIT One Vanderbilt Opens
The immersive observatory experience is located at the top of KPF-designed One Vanderbilt and offers visitors a range of thrills high above Midtown Manhattan, including the neighborhood's highest viewing point.
KPF joined SL Green in celebrating the opening of SUMMIT One Vanderbilt at a ribbon-cutting ceremony today alongside many collaborators as well as New York City leaders. SUMMIT One Vanderbilt features multiple attractions, including LEVITATION, a pair of skyboxes that allow guests to step outside the building's envelope 1,063 feet above Madison Avenue and view the street below through a transparent glass floor. Located one level up, ASCENT is an all-glass elevator that travels outside the building to over 1,200 feet – Midtown's highest viewing point – offering sweeping panoramic views of the city. Rounding out the experience are APRÉS, a lounge and café with a cocktail program created by Union Square Events, and the SUMMIT TERRACE, which wraps the southern and western sides of One Vanderbilt – both designed by Snøhetta. Within SUMMIT One Vanderbilt, AIR, designed by Kenzo Digital, provides a story-driven, multi-space immersive experience through four different stages.
One Vanderbilt is Midtown's tallest office tower, joining the Chrysler Building and Empire State Building as icons along Manhattan's skyline. The building's massing is comprised of four interlocking, tapering volumes that spiral upward, creating a series of setbacks at its crown that accommodate various features of the SUMMIT One Vanderbilt experience. At its base, the tower opens to a 14,000-square-foot plaza and offers direct connection to Grand Central Terminal, serving as a new doorstep to the city.
One Vanderbilt is developed by SL Green with Hines serving as development manager. Learn more about SUMMIT One Vanderbilt and plan your visit here.