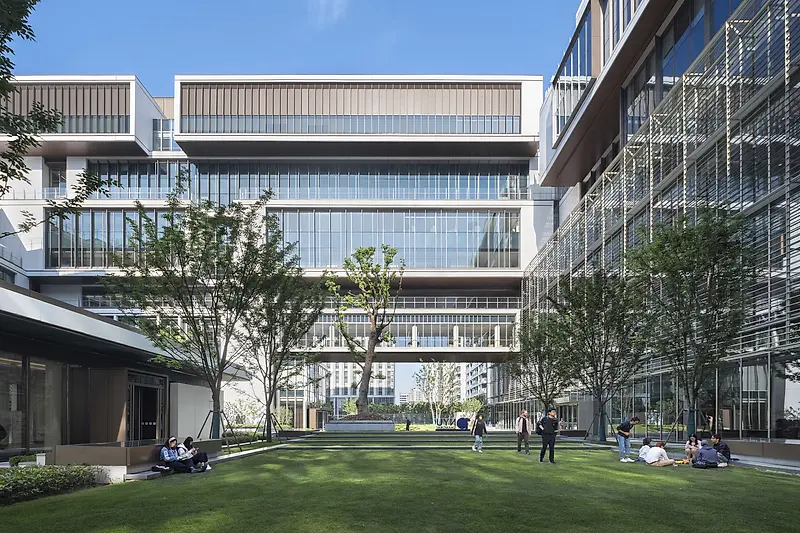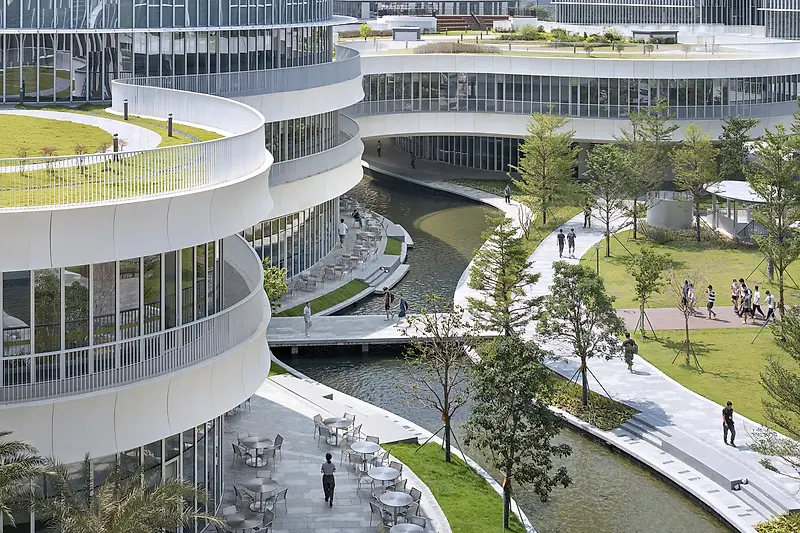 Jill Lerner Presents HKUST Guangzhou and NYU Shanghai in Keynote at Cornell-China Forum
On November 5, the KPF Principal spoke at the event in Guangzhou hosted by her alma mater Cornell, where she discussed the firm's recent academic projects in China.
Jill began her talk with a focus on decarbonization efforts and the importance of sustainable mixed-use projects at a large, urban scale. She recounted KPF's development of the Qiantan district in Shanghai, spanning multiple projects ranging in typology. The recently opened NYU Shanghai is a close neighbor of Qiantan Center, with New Bund Square City, Crystal Plaza, and Qiantan Media Port close by. NYU Shanghai is one of multiple KPF collaborations with the university and provides an academic gateway between China and the rest of the world for the students. Jill provided insight into how the pinwheel configuration of the buildings takes inspiration from historical institutions and helps avoid silos to foster interdisciplinary collaboration. The project is LEED Gold, setting a standard for green architecture in China and throughout Asia.
The second portion of Jill's presentation was dedicated to the Hong Kong University of Science and Technology in Guangzhou, a carbon neutral-ready research campus with a design that integrates into the surrounding landscape and canal system. As a sister campus to the university's Clear Water Bay location, HKUST Guangzhou is a catalyst for innovation in the Greater Bay Area with flexible laboratories and a design that puts science on display. To accompany her presentation, Jill led a tour of the campus, focusing on the Academic and Research Hub.
The Cornell-China Forum was a one-day conference that showcased the university's research and collaborations with a global scope. The event was hosted by the Cornell China Center, an organization that facilities research, partnerships, and alumni connections throughout China. Learn more here.