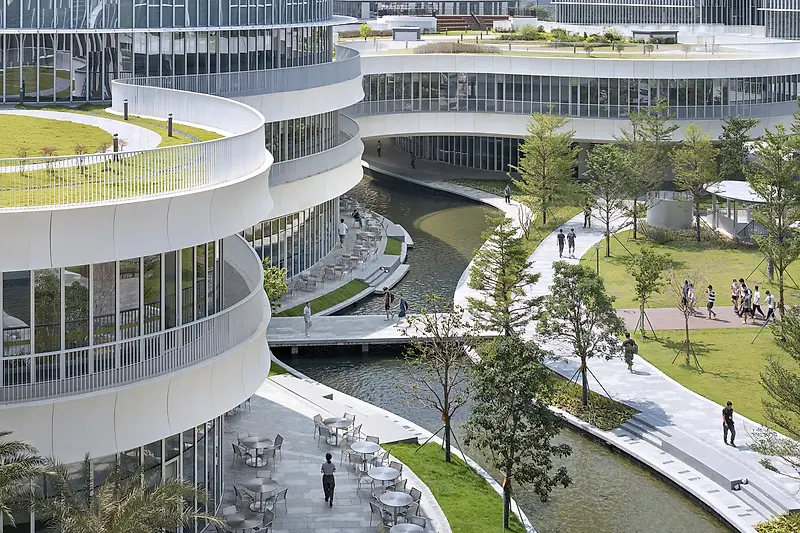 HKUST Guangzhou Wins Green GOOD DESIGN Award
The KPF-designed research campus in Guangzhou was honored by the program as a leading example of sustainable design.
Selected in the Architecture category, HKUST Guangzhou is a carbon neutral-ready, 267-acre campus. The development was designed to withstand and respond to the rapidly developing, coastal region of mainland China. Three canals embrace the delta and enforce its "zero water waste" goal, collecting and filtering rainwater for reuse and promoting resiliency through flooding and wetland protection. Both the main outdoor collaboration areas and the buildings themselves incorporate a combination of active and passive thermal comfort strategies to guarantee the well-being and enjoyment of occupants within the humid micro-climate of the site. Within the canals' borders, the campus is free of emissions, in which a smart electric mobility network supports the transportation of resources and people.
The jury was comprised of members of The European Center's International Advisory Committee, who selected over 180 new products, programs, people, environmental planning, and architecture designs as outstanding examples of Green Design.
2023 marks the 15th year of the specialized Green edition of the GOOD DESIGN awards. The program was originally founded in Chicago in 1950 by Eero Saarinen and Charles and Ray Eames. View all the winning projects here.
Earlier this year, the campus was named the Best Cultural, Sports, and Education Project in the 2023 MIPIM awards.