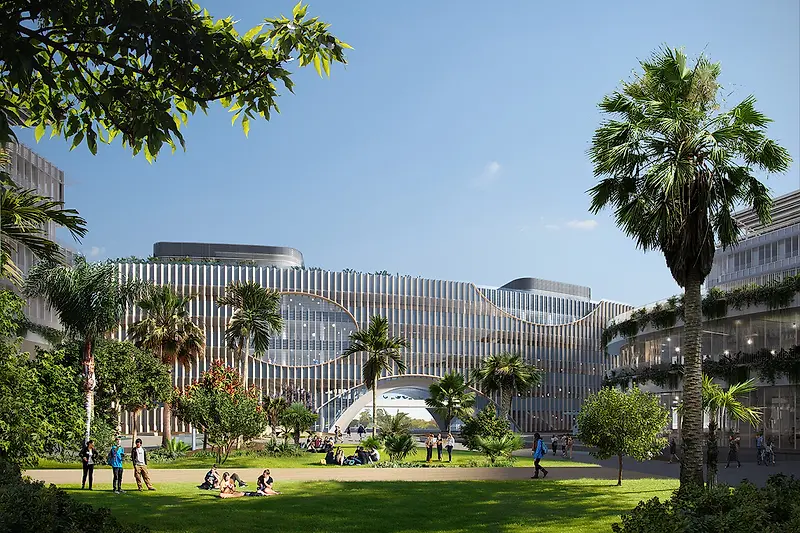 Carlos Cerezo Davila Discusses HKUST Guangzhou in AIA Hong Kong Event
On Monday, April 26th, KPF's Environmental Design Director presented the Hong Kong University of Science and Technology's Guangzhou campus, highlighting the project's sustainable goals.
Setting a new standard for higher education, KPF's design for HKUST Guangzhou spans over one million square feet, targeting carbon neutrality and zero water waste. In the AIA Hong Kong event, moderated by Winston Yeo, AIA Hong Kong President, Cerezo Davila explained the challenges of the Guangzhou site, a green field subject to frequent flooding from the Zhujiang River, and HKUST's goals for expanding their campus with the motto, "one university, two campuses."
While presenting HKUST's sustainable features, Cerezo Davila highlighted additional KPF projects that have informed the university's design and its central goal of significant carbon reductions. The timing of this presentation aligns with the April submission deadline for AIA2030, a commitment KPF joined in 2019. This year, the firm will submit energy data from 100 projects. Learn more about KPF's efforts here.
AIA Hong Kong is a branch within AIA International, established in 1997 to serve the increasing number of AIA architects practicing in the region. View the event page here.