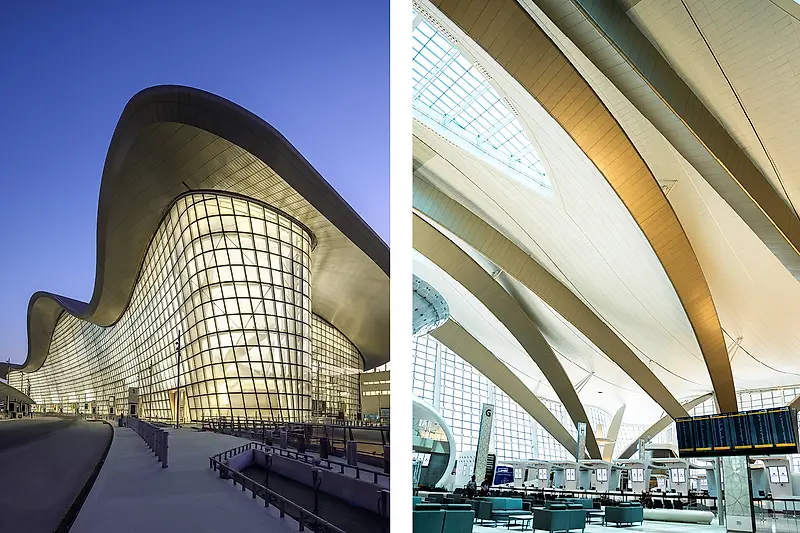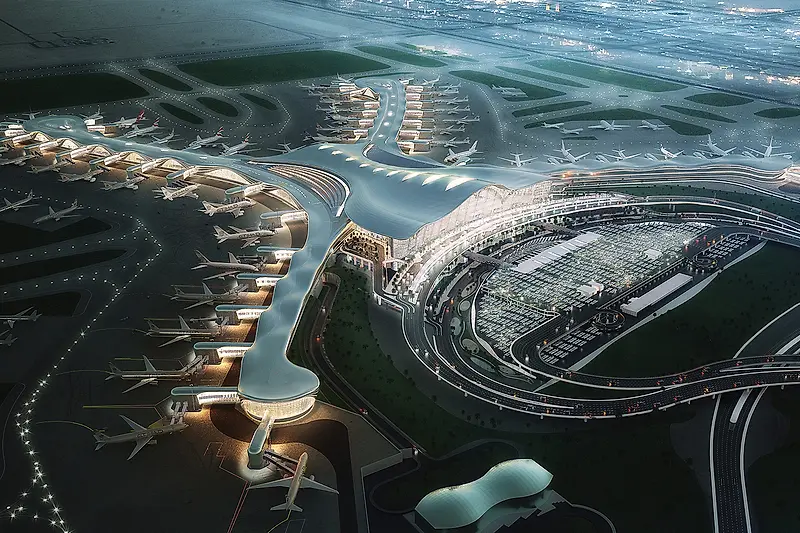 Abu Dhabi International Airport Terminal A to Open on November 1
Abu Dhabi Airports has announced that on November 1st, the KPF-designed Abu Dhabi International Airport Terminal A, will begin operations bringing a major increase to passenger capacity in Abu Dhabi and strengthening the Emirate's standing as a global aviation hub.
Elena Sorlini, Managing Director and Interim CEO at Abu Dhabi Airports, said:
"With final preparations almost complete, I am proud to say we are ready to open Terminal A to the public on November 1st. We will see a rapid increase in the number of flights operating from Terminal A as of November 1st to the 14th, and I'm excited by the new opportunities and experiences which the iconic facility will bring to both airlines and passengers. Terminal A will drive the growth of the aviation sector in Abu Dhabi and play an instrumental role in welcoming more businesses and tourists to the emirate for decades to come."
Terminal A will prioritise the passenger experience, facilitating a streamlined service from kerb-to- gate. It will also be the first in the world to include all nine biometric airport touchpoints. In the first phase, this will see biometric solutions installed in key areas, such as self-service bag drops, immigration eGates and boarding gates. When fully operational, it will use facial recognition technology to screen passengers and minimise wait times. Combined with other high-tech facilities including an advanced baggage handling system capable of processing up to 19,200 bags per hour, Terminal A is poised to deliver a seamless passenger journey to travellers like never before. Increasing to 65 parking stands connecting aircraft with allocated boarding gates, this allows for less congestion, a more relaxed boarding experience and smoother onward journey.
The X-shaped building design helps improve operational efficiency and passenger flow featuring four themed piers inspired by Abu Dhabi's desert, sea, city and oasis natural landscapes. It also features the Sana Al Nour, which is one of the largest indoor public art features in the Middle East, standing at 22 metres tall and 17 metres wide.
Terminal A will reduce water consumption by 45%, whilst more than 7,500 solar panels power a 3MW plant that currently saves 5,300 tons of carbon dioxide annually. Meanwhile, a state-of-the-art Advanced Surface Movement Control System, the first of its kind in the Middle East, will allow planes to land quickly and safely during low-visibility weather conditions.
Terminal A is one of the largest airport terminals in the world, strengthening Abu Dhabi's global position as a centre for tourism, trade and commerce. The Terminal will double the current airport capacity, with the capability to accommodate up to 45 million passengers per year. At triple the size of the previous Terminal, and with flights to 117 destinations worldwide, it will increase both the frequency and reach of flights to and from Abu Dhabi, boosting the Emirate as a destination for travel, business and entertainment. Read the full press release here.